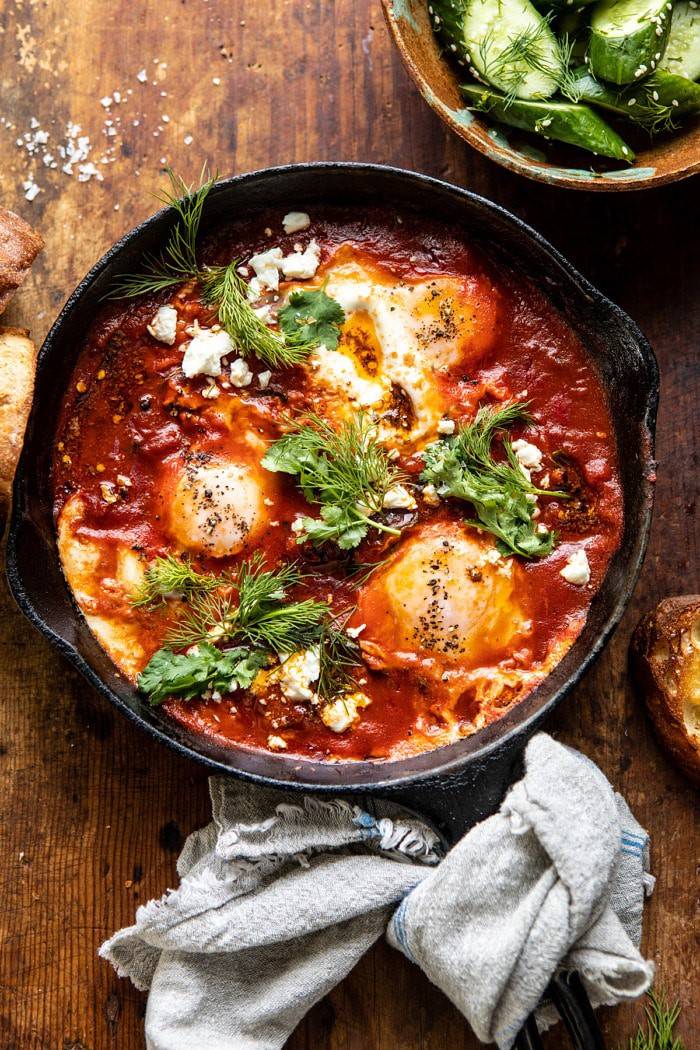 Eggs in purgatory with chile butter and feta
Turkish inspired Eggs in Purgatory with Chile Butter and Feta. Perfectly soft-cooked eggs simmered in a simple, slightly spicy, tomato sauce with garlic, herbs, and lemon. Top this one-skillet recipe with fresh herbs, plenty of feta cheese, and serve with olive oil toasted bread for dipping. It's the simplest recipe that doubles as both a mouth-watering breakfast and a quick and easy dinner. Bonus? This takes no more than thirty minutes to prepare, is healthy, and delicious.
first, exactly what are eggs in purgatory?
The dish comes from southern Italy and is simply eggs simmered in a spicy tomato sauce. Recipes vary slightly, but most use olive oil, red pepper flakes, parmesan cheese, and eggs. It's so SIMPLE, but when served with crusty bread, so delicious.
So what does the "purgatory" part refer to? According to the New York Times, it's unclear whether purgatory refers to the bubbling red tomato sauce the eggs are poached in, or the fiery red pepper flakes that the sauce is hinted with. Either way, the dish is really just eggs in tomato sauce all simmered together in one skillet. However, my version is slightly different, as it's made with a fresh Turkish twist.
INGREDIENTS
CHILE SESAME BUTTER
4 tablespoons salted butter
1 teaspoon crushed red pepper flakes
1/2 teaspoon smoked paprika
1 tablespoon raw sesame seeds
EGGS IN PURGATORY
4 tablespoons extra virgin olive oil
3 cloves garlic, smashed
1/2 teaspoon crushed red pepper flakes
Zest and juice from 1 lemon
1 (28 ounce) can crushed fire roasted tomatoes
kosher salt
2 cups baby spinach
4-6 large eggs
1 cup tender herbs such as cilantro, parsley, basil, and dill
4 ounces feta cheese, crumbled
sliced crusty bread, for serving
US Customary - Metric
INSTRUCTIONS
1. To make the butter. In a large skillet melt together the butter, red pepper flakes, paprika, and sesame seeds. Cook until the butter is browning, 3-5 minutes. Remove from the heat and pour the butter into a bowl.
2. To make the eggs. Return the skillet to the stove. Heat the olive oil over medium heat. Add the garlic and cook 3-5 minutes, until the garlic is fragrant and turning golden brown. Stir in the red pepper flakes and lemon zest, cook another minute. Pour in the tomatoes and season with salt. Stir in the spinach. Turn the heat to medium-low. Simmer, uncovered until the tomatoes thicken into a sauce, 10-12 minutes.
3. Using the back of a spoon, make 4-6 divots into the sauce, then crack an egg into each divot. Cover and cook until the eggs are set to your liking, 2 to 3 minutes for runnier yolks.
4. To serve, crumble the feta over the eggs. Top with mixed herbs, lemon juice, and spoon over the chile butter. Serve with plenty of toasted bread.
Sauerkraut-Potato Puree with Crispy Bacon
Prep:
10 mins
Cook:
20 mins
Total:
30 mins
Servings:
4 servings
Stampot is a classic dutch recipe enjoyed during the cold winter months! Enjoy the health benefits of fermented foods like saurekrout and the hearty warm filling flavors of the potato's and bacon.
Ingredients
3.3 lb (1.5 kg) floury potatoes
3/4 lb (350 g) lean unsmoked cured bacon
1 3/4 lb (750 g) sauerkraut
2 cups (475 ml) milk
2 tbsp butter
Salt & pepper, to taste
1 cup (40 g) celery leaf (selderieblad, see Tips), to taste
Directions:
1:
Peel and dice the potatoes and cook in salted water in a large soup pot for 20 minutes, or until tender.
2:In a skillet or frying pan, fry the bacon until just crispy, and drain on kitchen paper. Add the sauerkraut to the bacon fat in the pan and allow to warm through. Meanwhile, warm the milk in a small saucepan.
3:Drain, shake and dry the potatoes with kitchen towels before mashing with a potato masher or ricer. Quickly add the warmed milk and butter to the potatoes and season to taste.
4:Fold the sauerkraut through the mashed potatoes. Crumble the bacon and finely chopped celery leaves over the dish, fold through, and serve piping hot.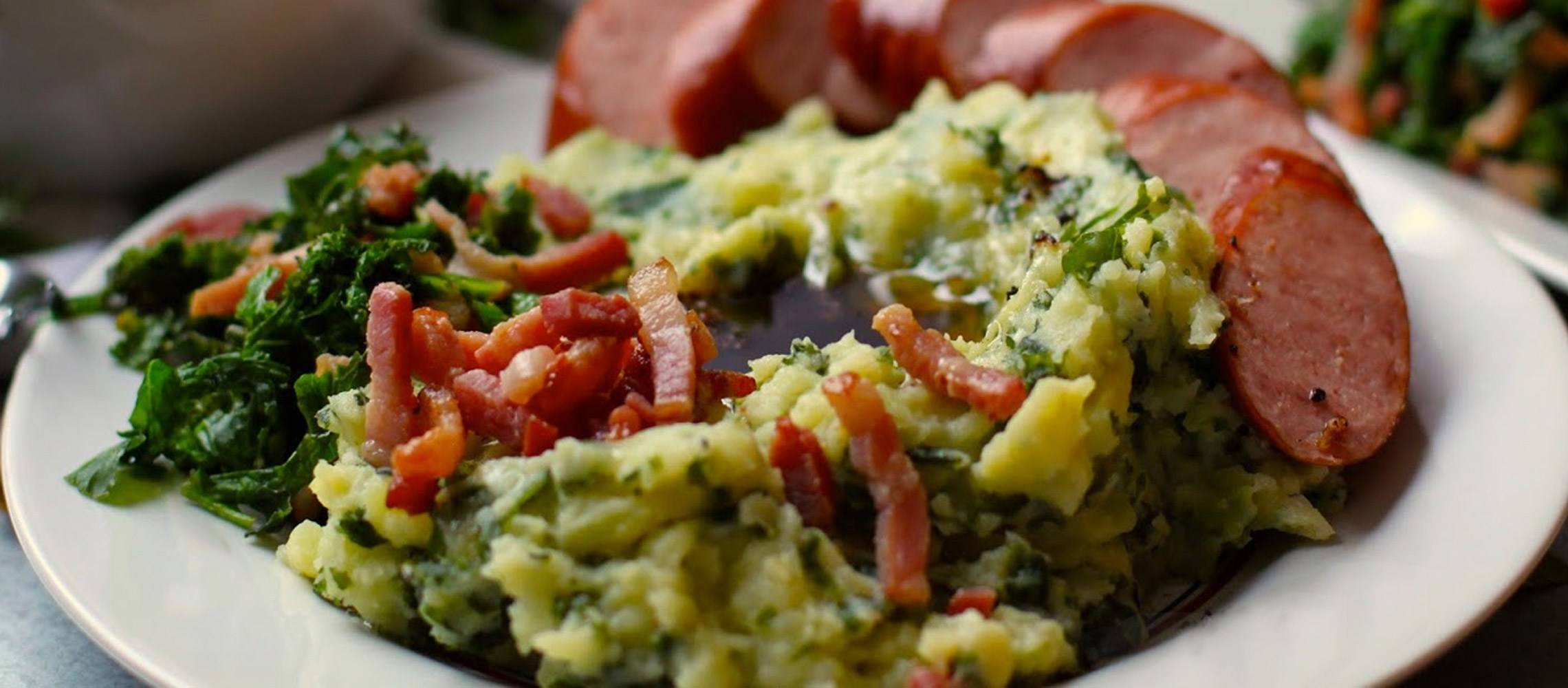 cheesy baked chipotle chicken tacos with cilantro lime ranch.
INGREDIENTS
2 tablespoons extra virgin olive oil
1 pound ground chicken, beef, or turkey
1 yellow onion, chopped
2-3 teaspoons chipotle chili powder, use to your taste
2 teaspoons smoked paprika
1 1/2 teaspoons ground cumin
1 teaspoon garlic powder
1/4-1/2 teaspoon crushed red pepper, use to your taste
1/2 teaspoon dried oregano
1 teaspoon kosher salt
1/4 cup fresh cilantro, chopped
12 hard shell tacos (see notes for homemade option)
2 cups shredded Mexican cheese
CILANTRO LIME RANCH
1 cup sour cream or plain Greek yogurt
3/4 cup fresh cilantro, finely chopped
1 teaspoon garlic powder
1 teaspoon onion powder
1/4 cup pickled jalapeños, chopped + 2 tablespoons brine
juice from 2 limes
1 teaspoon kosher salt
INSTRUCTIONS
1. Preheat the oven to 425 degrees F.
2. In a large skillet, heat the olive oil over high heat. When the oil shimmers, add the ground chicken and onion. Cook, breaking up the meat as it cooks, until the chicken is browned, about 5 minutes. Add the chipotle chili powder, paprika, cumin, garlic powder, red pepper flakes, oregano, and salt. Add 3/4 cup water. Reduce the heat to medium and simmer until the sauce has thickened slightly around the chicken, about 10 minutes. Remove from the heat and stir in the cilantro.
3. Line the taco shells up on a sheet pan or in a 9x13 inch baking dish. Transfer to the oven and bake 5 minutes. Evenly divide the meat among each taco shell and top with cheese. Bake 10 minutes, until the cheese has melted.
4. Meanwhile, make the ranch. Combine all ingredients in a glass jar and shake or stir until creamy.
5. Serve the tacos topped with ranch, avocado, red onion, and any other desired toppings.