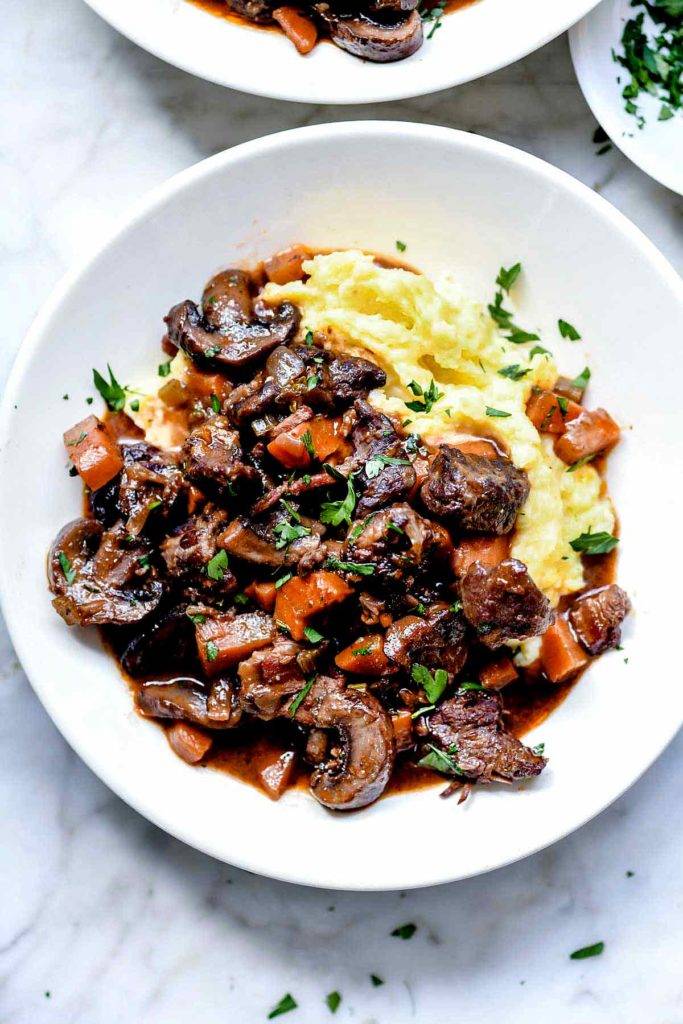 A classic and timeless french recipe served up perfectly with mashed potatoes or noodles, you cant go wrong with beef bourguignon. Julia Childs and Ina Garden have made this recipe a true staple in french cuisine.
INGREDIENTS
1 tablespoons extra-virgin olive oil
6 ounces (170g) bacon, roughly chopped
3 pounds (1 1/2 kg) beef brisket, trimmed of fat (chuck steak or stewing beef) cut into 2-inch chunks
1 large carrot sliced 1/2-inch thick
1 large white onion, diced
6 cloves garlic, minced (divided)
1 pinch coarse salt and freshly ground pepper
2 tablespoons flour
12 small pearl onions (optional)
3 cups red wine like Merlot, Pinot Noir, or a Chianti -- for a milder sauce, use only 2 cups of wine
2-3 cups beef stock (if using 2 cups of wine, use 3 cups beef stock)
2 tablespoons tomato paste
1 beef bullion cube, crushed
1 teaspoon fresh thyme, finely chopped
2 tablespoons fresh parsley, finely chopped (divided)
2 bay leaves
1 pound fresh small white or brown mushrooms, quartered
2 tablespoons butter
INSTRUCTIONS
In a large cook pot, sauté the bacon over medium heat in 1 tablespoon of oil for about 3 minutes, until crisp and browned. Transfer with a slotted spoon to a large dish and set aside.
Pat dry beef with paper towel; season with salt and pepper and sear in small batches. Remove the beef and set it with the bacon.
Using the same pan sauté the carrots and onions until softened, and then add the garlic.
Drain excess fat and return the bacon and beef back into the pot; season with 1/2 teaspoon coarse salt and 1/4 teaspoon ground pepper.
Sprinkle flour, over the mix and stir it in so its evenly blended. Let the mix cook for 4-5 minutes or until it browns.

Add the pearl onions, wine and enough stock so that the meat is barely covered. Then add the tomato paste, bullion and herbs. Cover and bring to a boil
Reduce heat to low and simmer for 1 1/2 to 2 hours, stirring occasionally, until the meat is falling apart.
Around the time you have 5 minutes left begin the mushrooms:Heat the butter in a medium-sized Fry Skillet over heat watch to see when it foams.
Add the remaining 2 cloves garlic and cook until fragrant,add in the mushrooms, salt and pepper and cook until soft then add these into the cookpot.
Garnish with parsley and serve with mashed potatoes, rice or noodles.