Cauliflower Steaks in herbed brown butter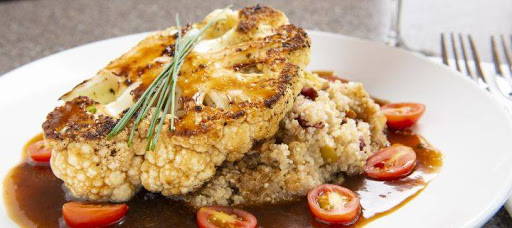 This twist on cauliflower is absolutely amazing and healthy! Cauliflower is Crisped up in our incredible Titanium Elite Fry Pans and rich decadent hazelnut butter melts in your mouth and the vegetable demi glaze adds to the meat like ensamble to create a gastronomic masterpiece.
ingredients for the cauliflower
1 2 pound head cauliflower
¼ cup olive oil
½ teaspoon salt
½ teaspoon coarsely ground black pepper
¼ cup salted butter
¼ cup chopped hazelnuts
1 tablespoon chopped fresh marjoram or oregano
1 tablespoon lemon zest
For the Demi Glaze
2 onions
3 carrots
3 stalks celery
5 cloves garlic smashed
10 mushrooms smashed
1cup cabbage
1 cup cauliflower trimmings
2 tomatoes
1 zucchini
1 bell pepper
1 gallon water
3 sheets nori seaweed
Cornstarch to thicken
Salt and pepper to taste
4 oz sweet soy (can be purchased at Asian markets or make at home recipe to follow)
Olive oil to coat veggies.
Directions
1.)Peel off the leaves and slice the cauliflower to make 3/4 inch thick slices to make the "steaks" Lay the steaks in a shallow baking pan. Coat each side evenly with a brush and olive oil and season with salt and pepper.
2.)Heat a medium size Titanium elite fry pan over medium high heat so that it gets very hot and place the cauliflower into the pan and cook 4-5 minutes on each side. Place the finished pieces back into the pan and cover it to keep it warm.
3.) Turn the heat down to medium and let the fry pan cool for 7 minutes. Add hazelnuts and toast for 3 minutes then add the butter and and stir gently until you see the butter begin to brown then remove from the heat.
For the Demi Glaze:
Preparation:
Slice all vegetables very thin. The better job you do here the better your stock will be. The key is a consistent size throughout as everything will roast and develop flavors more evenly.
Toss veggies with a small amount of olive oil to coat. Place on a sheet pan or roasting pan in a consistent layer.
Roast in a 400f oven. Check every 15 minutes and stir and redistribute the veggies.
As the veggies get closer to being done check more frequently. You want a deep dark color even a few crispy and or slightly burnt edges are just fine, you are building flavor. If some veggies seem done while others are not feel free to remove them and keep roasting the rest.
Now that your veggies are roasted add them to your stock pot. Now deglaze your roasting pan with 1 quart of your water. Stir it, scrape it, get all that lovely flavor that your pan is trying to keep from you. If you need put your pan over the heat and keep going at it until you get all you can. I do suggest a wooden spoon as metal spoons you can dig into the metal and we don't want to eat the pan. We just don't want the pan to steal our flavor. And in doing this your roasting pan will be easier to clean.
Add this newly acquired deliciousness to you stock pot. Add the rest of the cold water, the sheets of nori, and heat it up. You only want to simmer this not boil.
Simmer for approx. 45min
Carefully strain out the veggies. Return stock to stock pot return to heat. Discard or compost vegggies.
Add sweet soy. Taste. Adjust seasoning.
Bring to a boil and thicken slightly with cornstarch.
To plate:
Place a ladle of the demi glaze onto a plate and lay a steak on top of it and spoon the butter and hazelnuts over top then garnish with lemon.