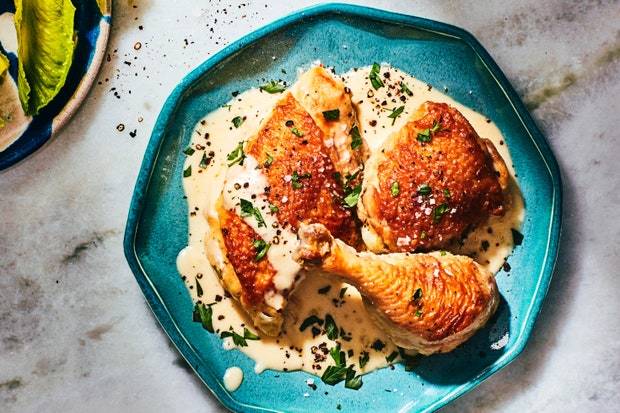 This Dish is a real treat and you will most definetely end up with extra sauce so the next time you make it you can cut a few corners and save a few minutes, just freeze the leftover sauce and when your ready to use it reheat it for round two on this dish or try it out on something new!
INGREDIENTS
1/4 cup vegetable oil
1 (3 1/2- to 4-lb) free-range chicken, cut into 8 serving pieces
2 teaspoons salt
1 teaspoon black pepper
3/4 cup plus 2 tablespoons all-purpose flour
3 carrots, chopped
2 onions, chopped
5 garlic cloves, chopped
2 cups heavy cream
1 1/4 cups dry white wine
1/4 cup fresh lemon juice
1/4 cup Dijon mustard
1 teaspoon fresh thyme leaves
1 Turkish or 1/2 California bay leaf
1/2 cup water
3 tablespoons unsalted butter
PREPARATION
1.)Put oven rack in middle position and preheat oven to 500°F.
Heat oil in a 12-inch heavy skillet over moderate heat until hot but not smoking.
2.)While oil is heating, sprinkle chicken with 1 teaspoon salt and 1/2 teaspoon pepper, then dredge, 1 piece at a time, in 3/4 cup flour (total), knocking off excess. Brown in 4 batches, turning over occasionally, until golden, 5 to 6 minutes per batch. Transfer to a platter as browned.
3.)Stir together carrots, onions, garlic, cream, wine, lemon juice, mustard, thyme, bay leaf, and remaining teaspoon salt and 1/2 teaspoon pepper in a 5- to 6-quart heavy pot, then bring to a gentle boil over moderate heat, stirring occasionally. Add chicken (chicken will not be completely submerged) and partially cover pot, then braise in oven 25 minutes.
4.)Reduce oven temperature to 350°F and braise 20 minutes more. Transfer chicken to a clean platter and keep warm, loosely covered with foil.
5.)Pour cooking liquid through a sieve into a bowl, discarding solids, then stir in water. Melt butter in a 2 1/2- to 3-quart heavy saucepan over moderately low heat, then whisk in remaining 2 tablespoons flour and cook roux, whisking constantly, 3 minutes. Add cooking liquid in a fast stream, whisking vigorously, then cook at a bare simmer, whisking constantly, 5 minutes.
6.)Serve chicken with sauce.