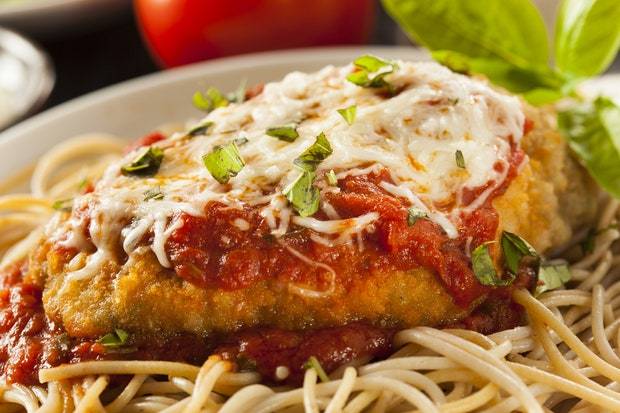 We couldn't help but share this classic Italian Favorite! If you want a juicier chicken Cutlet try using thighs instead of a breast! Serve this up with some hot toasty garlic bread, and a glass of chianti and enjoy!
BON APPÉTIT APRIL 2013 DOMINICK'S, LOS ANGELES, CA

INGREDIENTS
2 cups fine dry breadcrumbs
1 cup all-purpose flour
4 large eggs
1 cup whole milk
8 small skinless, boneless chicken thighs, pounded to 1/2" thickness
Kosher salt, freshly ground pepper
N/A freshly ground pepper
8 tablespoons olive oil
8 tablespoons prepared sun-dried tomato pesto
1 pound fresh mozzarella, cut into 8 slices
1/2 teaspoon crushed red pepper flakes
4 cups prepared marinara sauce, warmed
Finely grated Parmesan (for serving)
PREPARATION
1.)Place breadcrumbs and flour in 2 separate shallow bowls. Whisk eggs and milk in a medium bowl.
2.)Season chicken with salt and pepper. Dredge in flour, shaking off excess. Coat with beaten egg mixture, allowing excess to drip back into bowl. Coat with breadcrumbs, pressing to adhere. Place on a large plate or rimmed baking sheet.
3.)Heat 2 tablespoons oil in a large skillet over medium heat. Working in 4 batches, cook thighs until chicken is golden brown and cooked through, about 4 minutes per side; transfer to a paper towel-lined plate. Wipe skillet clean and add 2 tablespoons oil between batches.
4.)Preheat broiler. Lay 4 cutlets on a foil-lined baking sheet; spread each with 2 tablespoons pesto, top with a slice of cheese, and sprinkle with red pepper. Top with remaining cutlets and cheese. Broil until cheese browns, about 4 minutes.
Divide sauce and chicken among shallow bowls and top with Parmesan.