Chicken Sauerkraut Roesti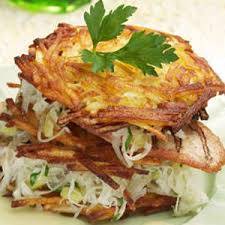 Eat this German inspired Delicacy just like a burger! Savory Chicken is layered in between two potato pancakes with scrumtious pineaple and saurkrout; this gourmet twist on a burger is sure to light up your mouth and please any crowd! The Titatanium Elite pan #726 is the perfect pan for this dish! The non stick surface allows you to make a healthy potato cake with no oil or fat compared to a traditional latka or hashbrown, so get a delicious, innovative and healthy dish.
Ingredients
For the potato roesti

Salt pepper to taste
oil or butter to sauté potato roesti
For the filling:
4 chicken fillets 4 oz each
salt and freshly ground pepper to taste
3 tbsp olive oil
1 16 oz can Hengstenberg Sauerkraut
1 small can of pineapple chunks
1 tsp finely cut parsley
1/4 tsp cayenne pepper
1 oz cold butter
large parsley leaves as garnish
Instructions
1.)Wash potatoes, peel and grate coarsely or cut into thin stripes (julienne). Dry the cut or grated potatoes in cloth.
2.)Heat butter and/or oil in pan and fry 12 small portions of the potatoes in pan until golden-brown, pressing them down with a spatula. When done, keep flat roesti cakes warm in preheated oven.
3.)Halve the chicken fillets, season with salt and pepper, and fry or grill brown on both sides on barbecue or in the pan.
4.Drain Sauerkraut and pineapple juice into separate cup and reserve the juice. Warm sauerkraut and pineapples in pot on medium heat, add cut parsley.
5.)Bring sauerkraut/pineapple juice to a boil, add cayenne pepper and the cold butter.
6.)
to serve, layer 2 roesti cakes alternatively with chicken and pineapple sauerkraut, and top with a third roesti layer. Pour the sauerkraut pineapple sauce around the 'burgers,' garnish with parsley leaves and serve.