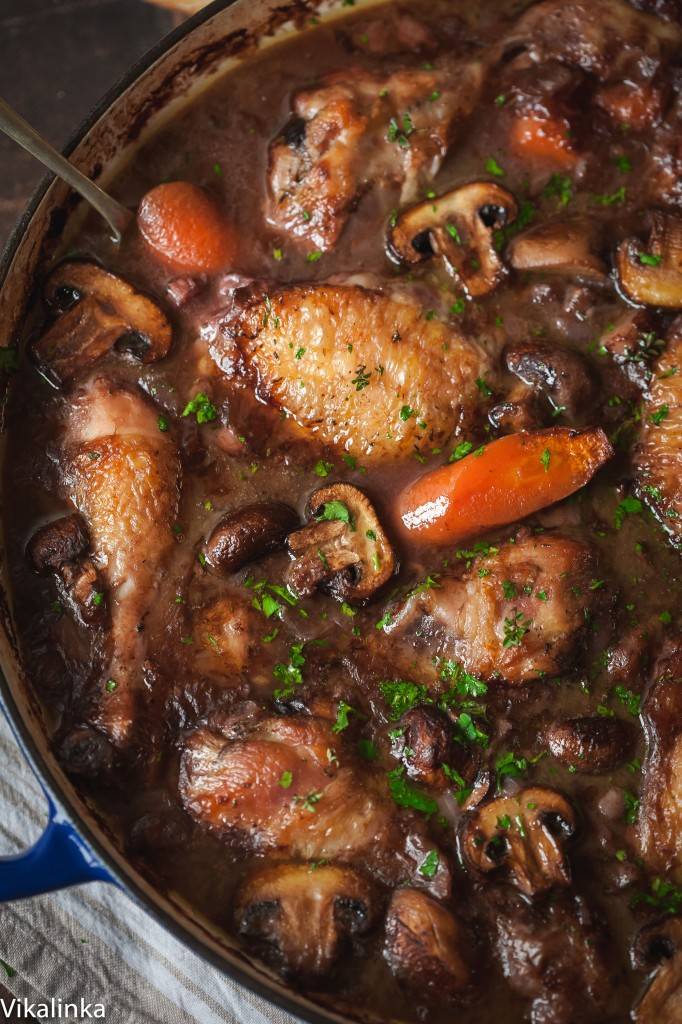 INGREDIENTS
4 slices thick-cut bacon
2 pounds chicken thighs and legs, skin-on
2 teaspoons sea salt
1/2 teaspoon pepper
1 teaspoon dried rosemary, chopped
1.5 cups pearl onions, peeled, skins removed
2 cups cremini mushrooms
1.5 cups rainbow carrots, whole or chopped into large chunks
1 tablespoons fresh rosemary, chopped
2 teaspoons fresh thyme
3 ounces tomato paste, half of a can
2 cloves garlic, minced
2 cups dry red wine
fresh parsley, garnish
METHOD
In a large cast iron skillet, with a cover, or dutch oven, cook bacon over medium-low heat until crispy. Remove from pan, roughly chop and set aside. Reserve bacon fat.
Next, pat dry chicken legs and thighs and season with salt, pepper and rosemary. Turn-up the heat to medium-high and sear the chicken in the reserved bacon drippings on all sides. Cook until skin is golden and crispy—about 2-3 minutes per side.
Remove chicken and add prepared vegetables to pan. Saute vegetables in bacon and chicken drippings until they begin to char and soften—about 5-8 minutes.
Add garlic and tomato paste to the pan and stir to combine. Then, replace chicken to the pan along with fresh thyme and rosemary.
Pour red wine over chicken and vegetables, reduce heat to your burner's lowest setting and cover with a lid. Cook for one hour.
After one hour, remove the lid and check the internal temperature of chicken. It should register at 165°F and vegetables should be fork tender.
When ready to serve, sprinkle with reserved chopped bacon, parsley and additional fresh thyme. Serve with mashed potatoes and crusty bread. Enjoy!