Crisp Buttered Sea bass & spring Salad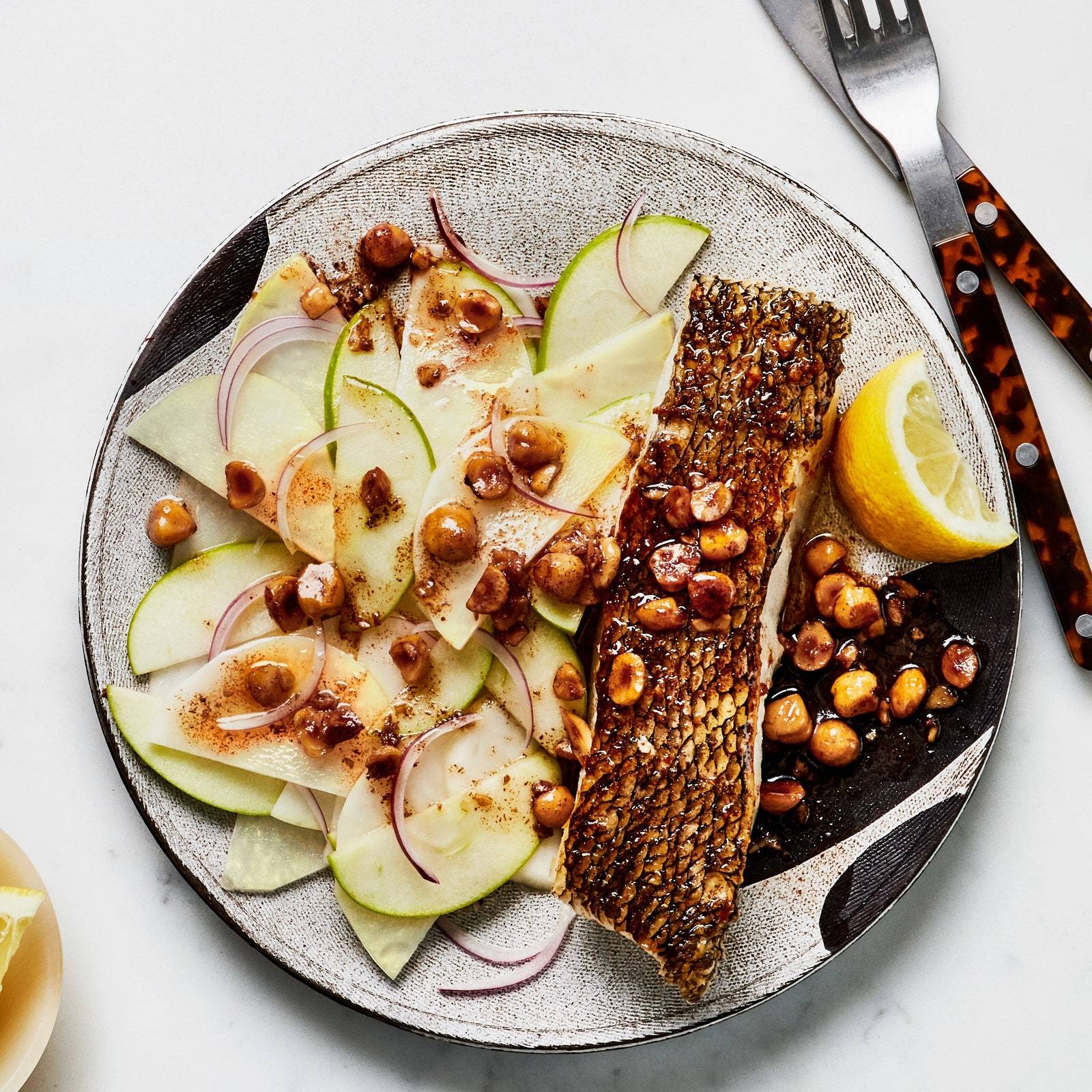 The irresistible buttery smooth texture and flavor of chilean sea bass is complimented by the extra crispy skin, absorbing the nutty richness of brown butter and lightened up by a wonderfully elegant salad made of kohlrabi and fennel, this is a romantic dinner for one or two no matter if you are solo or trying to impress anyone else.
INGREDIENTS
1 tsp. honey
1/4 cup plus 2 tsp. fresh lemon juice
3 Tbsp. extra-virgin olive oil, divided
1 tsp. kosher salt, plus more
2 small kohlrabi, peeled, halved lengthwise, thinly sliced crosswise
1 large green apple, cut into quarters lengthwise, thinly sliced lengthwise
1/2 red onion, thinly sliced
4 (5–6-oz.) skin-on Chilean sea bass or salmon fillets
Freshly ground black pepper
1/2 cup coarsely chopped blanched hazelnuts
6 Tbsp. unsalted butter, cut into pieces
Lemon wedges (for serving)
DIRECTIONS:
1.) make the marinade for the salad: Peel and cut the apple, quarter it and slice into thin pieces, do the same with the onion, and cut the fennel into pieces like the onion.
2.) In a separate bowl, mix the honey lemon juice, olive oil salt and pepper whisking thoroughly until fully mixed and leave to sit.
3.) Using the Medium Fry Pan add in a tablespoon of olive oil and make sure to cover the pan, heat on medium while you wash your fish and pat it dry and then season each side with salt and pepper. Place the Filets skin side down and press on them to crisp the skin for about 5 minutes, you will want to alternate back and forth pressing each piece until the meat turns white about 9-10 minutes then flip them over and finish for another 1-2 minutes.
3.) Plate each piece of fish skin side up.
4.) Wipe the pan out and heat the butter, make sure it covers the pan, and add the hazelnuts, on medium heat cook for 4-5 minutes until bubbly and brown.
5.) Mix into the remaining lemon juice and spoon over top the fish. Toss the salad in the marinade and serve next to the fish.

Garnish with lemon wedges.