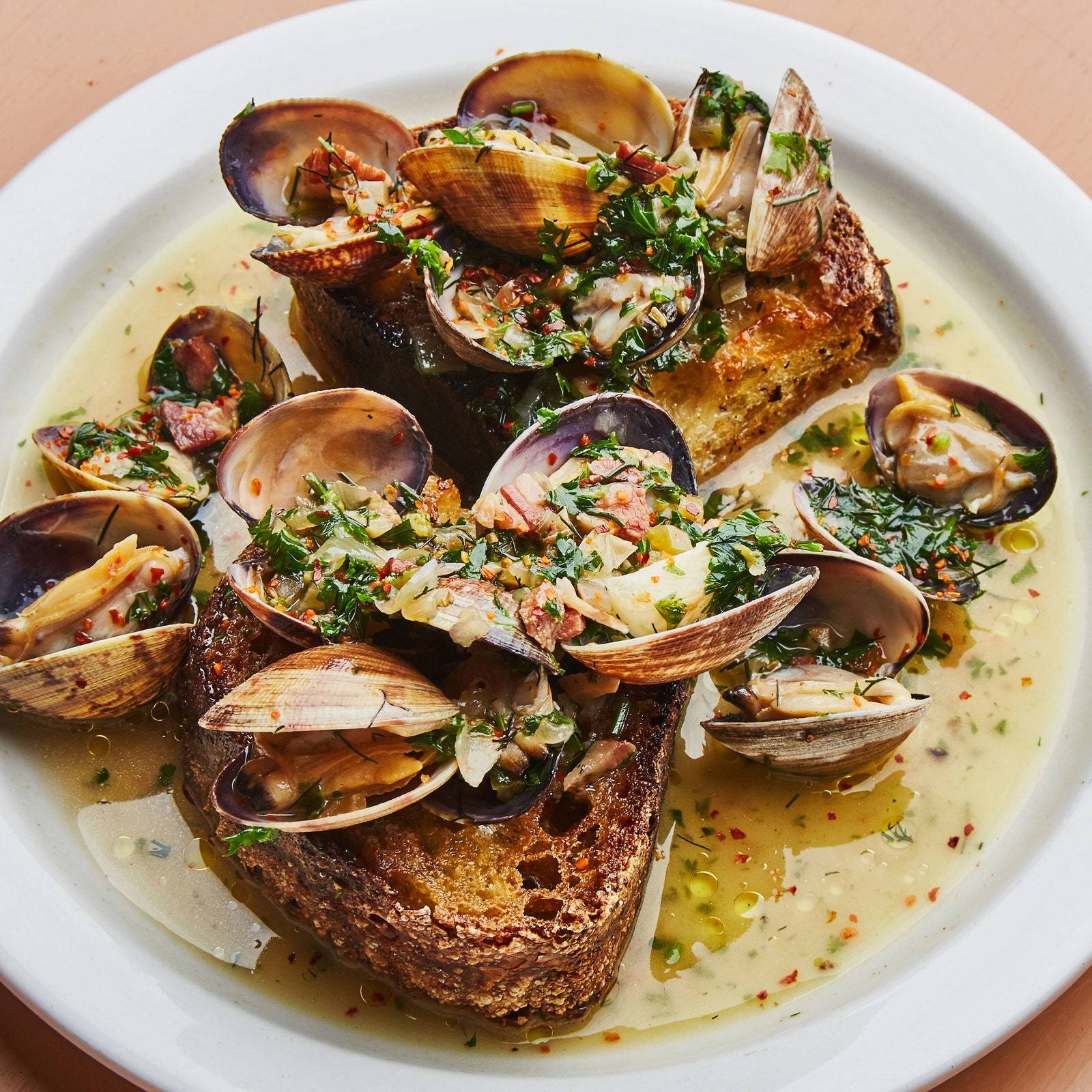 Sweet Clams, pancetta and the flavors of fennel melt in your mouth with this recipe as perfectly crisp and crunchy bread mops up the sauce for an easy, elegant and immaculate dinner for two.
INGREDIENTS
4 tablespoons olive oil, divided, plus more for drizzling
2 ounces pancetta (Italian bacon), finely chopped
4 garlic cloves, 2 thinly sliced, 2 whole
1/2 medium sweet onion, finely chopped
1/2 small fennel bulb, finely chopped, plus 1/4 cup fennel fronds
2 wide 3-inch strips lemon zest
1 bay leaf
1/2 teaspoon ground fennel
1 cup dry white wine, divided
2 (1 1/12-inch-thick) slices sourdough bread
1 pound Manila or littleneck clams or cockles
1/4 cup parsley leaves with tender stems
Make the Sofrito (you can do this a day early if you like)
1.)Prepare all vegetables needing to be cut.
2.) Heat 1 Tbsp. olive oil over medium heat in a Titanium Elite fry pan or wok, and then add in the pancetta and cook until it is brown and crisp.
3.) add the garlic and cook uncovered for one min
4.) Reduce the heat to medium love, add the fennel and onion and cook until soft and clear, stir occasionally, add in the bay leaf, ground fennal, lemon zest and salt plus pepper and let the sauce cook until it reduces for 3-5 minutes then move to a bowl and remove the bay leaf and let sit or refridgerate over night.
5.) Using a clean fry pan or wipe the skillet out, heat 2 tablespoons of oilive oil over medium heat to toast the bread, watch and wait for them to become golden brown on each side. Then place them on a plate lined with paper towels. Dust each piece with garlic powder on each side.
6.) Mince 1-2 cloves of garlic, heat the pan to medium again add in the sofrito and garlic let both cook 1-2 min and the add the clams and remaning wine, and cover, increase the heat to medium-high and bring to a boil till the clams open and the sauce reduces (5-7 minutes). Toss in the fennel and parsley
7.) Place a toast down on the plate and cover with the clams, spoon the sauce over top and add a garnish of red pepper and olive oil drizzle if desired.