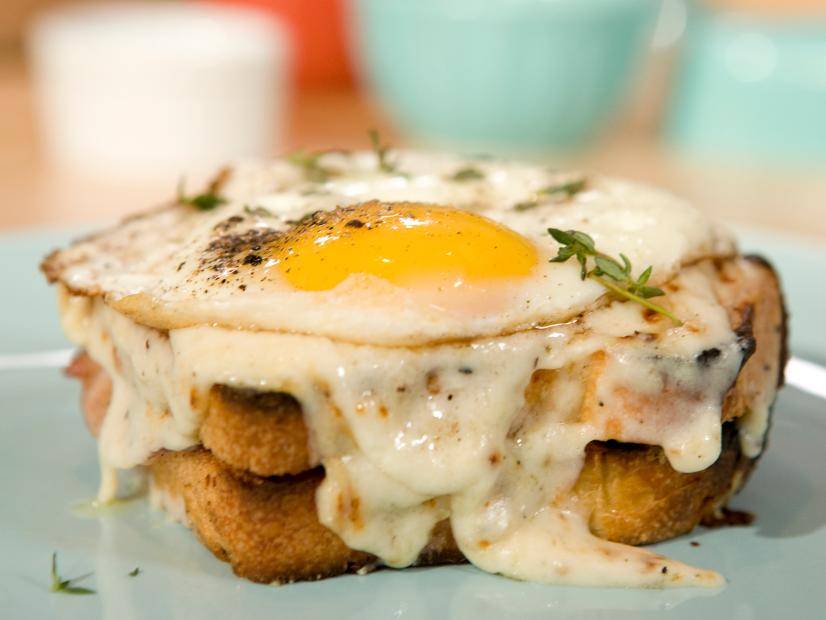 Throw an elegant twist on the average ham and cheese sandwich and you get the Croque Madame. Quality ham layered with melted gruyere topped with creamy bechemele microgreens (if you like) and a fried egg, make an easy gourmet satisfying meal you cant go wrong with. All you need is a Fry pan and a stock pot along with a baking sheet and your good to go.
Ingredients
4 tbsp Butter
4 tbsp Flour
1 3/4 cup Whole milk
3-4 Sprigs fresh thyme
2 tbsp Dijon mustard, whole grain
1/4 tsp Ground nutmeg
1/2 tsp Kosher salt
8 Slices thick white bread
8 tbsp Butter,softened
12 Slices deli ham
2 cups Gruyère cheese, grated
2 tbsp Olive oil or butter
4 Fred meyer cage free eggs
2 tsp Fresh chives, optional
2 cups Micro greens, optional
Freshly ground black pepper
Heat the oven to 375 and while it heats butter only one side of each of your 8 bread slices, make sure to heavily coat them. layer each slice with 3 pieces of ham and top heavily with the gruyere cheese and place the remaining buttered slices on top.
For the Bechemel
1.simply melt the butter in the sauce pan on medium heat until foamy and then add in the flour, stirring constantly for about 1 minute with a wisk to mix.

2.The mix will start to clump together, when it does Gradually add the milk, whisking until mixture is smooth. Add the thyme to the pan, and
continue whisking until the sauce thickens, about 4 minutes.
Whisk in mustard, nutmeg and salt. and Remove from heat, Set
aside.
3. Toast sandwiches in the oven for 6 minutes until slightly golden

and cheese is melted.
4. Remove baking sheet from oven and turn on the broiler
5.Pour the béchamel sauce evenly over all four sandwiches. Top each sandwich again with a hearty handful of the gruyere
6.Place under broiler until cheese is bubbling and beginning to brown. About 3-4 minutes.
6. In a small medium fry pan, set over medium-heat add in to melt or heat 1 tablespoon butter or oil of your choice and Break eggs into pan 1 at a time.
7. Turn heat to medium-low. Slowly cook the eggs, until the
whites are completely set and yolks begin to thicken but are not
yet rm. Place 1 egg on each sandwich. Top with chives,
microgreens and freshly cracked black pepper.