Currant-Glazed Pork Tenderloin with Red Cabbage and Thyme Dumplings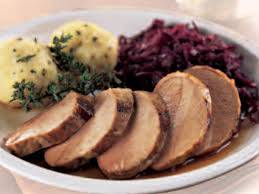 This recipe exudes the incredible flavors of german culture and tradition. Juicy Pork tenderloin is slow simmered and smothered in homemade pan gravy, accompanied by the traditional sweet red cabbage and fluffy homemade dumplings. This dish is perfect for any winter holiday, or family get together. Our medium series cookware set allows you every perfect piece to cover cooking the entire meal.
Ingredients
1/3 cup German red or black currant jelly plus 1 tablespoon
1 tbsp Bavarian beer vinegar or white German vinegar
2 lbs pork tenderloin (one tenderloin)
salt and pepper to taste
2 tbsp olive oil
3 cups drained German pickled red cabbage
1 tsp garlic powder
1 box of potato dumplings (preferably a bavarian style)
2 tsp fresh thyme leaves plus thyme sprigs to garnish
German Style Gravy (see recipe)
Instructions
For the tenderloin:
1.)Preheat your stove to medium heat
Slice the Tenderloin into 1 inch thick rounds. Pat dry and season the top and bottom of each round with salt and pepper.Then
place into the pan with 1 tablespoon of olive oil cook 3-4 minutes on each side.
2.)combine 1/3 cup currant jelly and vinegar, and set aside.
For the red cabbage:
While pork is searing place cabbage in a saucepan on low heat. Cover and cook, stirring occasionally, until hot throughout; stir in 1 tablespoon currant jelly.
3.)
For the potato dumplings:
Follow the dumpling package instructions to prepare adding in the garlic and fresh thyme before cooking. (preparation time for most mixes is typically 5-10 minutes followed by 20 minutes of boil time)
4.)To serve, slice tenderloin and arrange on a platter. Top pork with the german style gravy, plate the red cabbage and dumplings.