The Perfect Date Night Pork Chops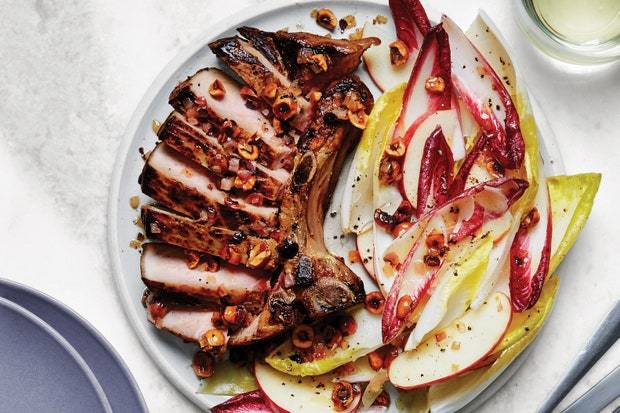 The secret to the incredible flavor of these amazing Porkchops is the rubbed honey on the outside creating a perfectly crisp, seared crust that pairs perfectly with the lemon and endive salad
INGREDIENTS
1 (1-lb.) bone-in pork loin chop (1"–1 1/2" thick)
Kosher salt
Freshly ground black pepper
3 tsp. honey, divided
5 Tbsp. extra-virgin olive oil, divided
3 Tbsp. skin-on hazelnuts, crushed
1 medium shallot, finely chopped
1 lemon, halved
1 small Pink Lady apple
1 large or 2 small endive, leaves separated
1 oz. Parmesan, shaved, broken into small pieces
PREPARATION
Pat pork chop dry with paper towels; season generously with salt and pepper. Let sit at room temperature 1 hour.
Heat a medium skillet, preferably cast iron, over medium. Drizzle 1/2 tsp. honey over 1 side of pork chop, then drizzle with 1 Tbsp. oil. Rub all over; repeat on the other side. Cook until deeply browned, about 3 minutes per side. Turn upright onto fat cap and hold with tongs; cook until browned, about 2 minutes. Reduce heat to low; cook 1 more minute on each side (an instant-read thermometer inserted about ½" from bone should register 130°F; cook another minute if needed). Transfer to a cutting board and let rest 10 minutes.
Add hazelnuts and 2 Tbsp. oil to same skillet; cook over medium-low heat, tossing, until nuts are golden, about 3 minutes. Add shallot; season with salt and pepper. Cook, stirring often, until shallot is softened and browned, about 2 minutes. Add remaining 2 tsp. honey and squeeze in juice from a lemon half; toss well. Remove from heat.
Cut around apple core to remove flesh in 3 lobes. Thinly slice 2 lobes (do as you will with remaining apple). Toss apple slices, endive, and Parmesan in a medium bowl; season with salt and pepper. Drizzle with remaining 1 Tbsp. oil, squeeze in juice from remaining lemon half, and toss again.
Cut bone away from pork chop and slice meat 1/2" thick. Arrange on a plate and drizzle juices over. Mound salad alongside and spoon hazelnut mixture over.