Easy Cheesy Chicken Tacos With Cool Cilantro Ranch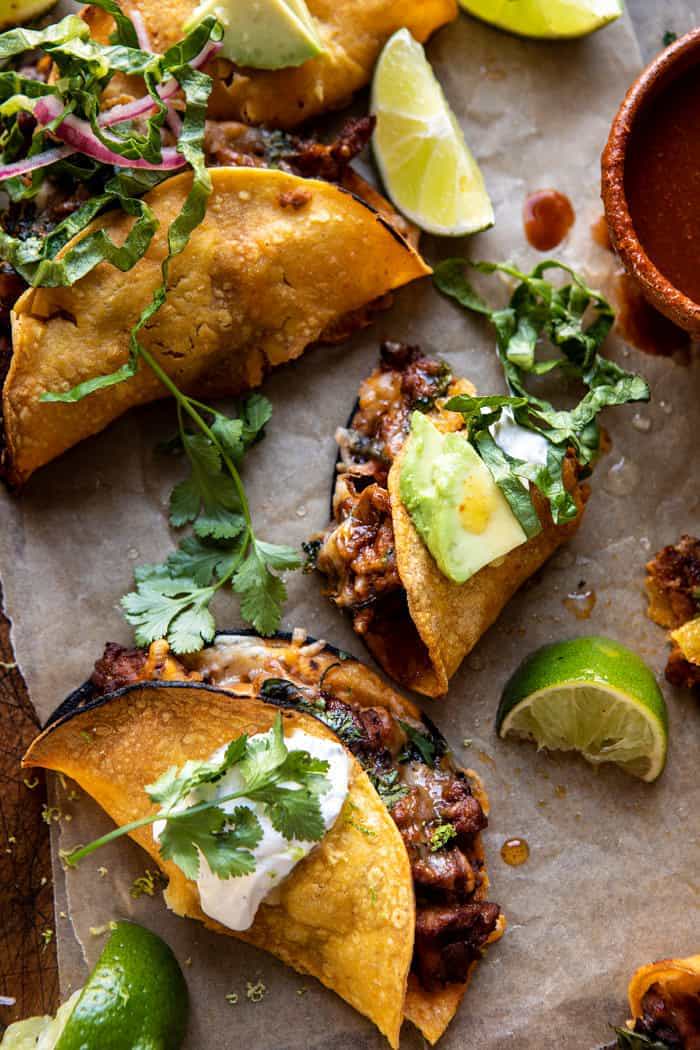 These Tacos come together quickly and easily and are the perfect weeknight dinner. Loaded up with all the fixings and flavors they are sure to satisfy your palette. The cool Cilantro sauce is great for a hot summer night, or just to add a festive pop of flavor for taco night.
INGREDIENTS
2 tablespoons extra virgin olive oil
1 pound ground chicken, beef, or turkey, or pork
1 yellow onion, chopped
3 teaspoons chipotle chili powder, use to your taste
1 teaspoons smoked paprika
1 1/2 teaspoons ground cumin
2 teaspoon garlic powder
1/2 teaspoon crushed red pepper, use to your taste
1 teaspoon dried oregano
1 teaspoon kosher salt
1/2 cup fresh cilantro, chopped
12 hard shell tacos
2 cups shredded Mexican cheese
CILANTRO LIME RANCH
1 cup sour cream or plain Greek yogurt
1 cup fresh cilantro, finely chopped
1 cup parsley
1 teaspoon garlic powder
1 teaspoon onion powder
1/4 cup pickled jalapeños, chopped + 2 tablespoons brine
juice from 2 limes
INSTRUCTIONS
1. Preheat the oven to 425 degrees F.
2. Using the Fry pan add heat the olive oil (or don't use it at all since the cookware does not require it). Add in your meat and and the onion stirring it to break it up while it cooks until brown (5-7 minutes)
3.) Once the meat and onions are browned add in all of the spices with 1/2-3/4 cups of water and stir.
4.) mix in the cilantro then lower the heat to medium and simmer. Wait until the sauce thickens, which takes around8-10 minutes.
5.)Remove the meat from the pan and place it into a seperate serving bowl.
3. place the taco shells on a baking sheet and heat them for 3-5 minutes, then fill them up heavily with the meat.
4. To make the cilantro mix all the ingredients into a blender and whip them together.
5. To Serve top the tacos with: tomatoes, onion, avocado, black olives, magos, pineapple, lettuce and whatever else you like.