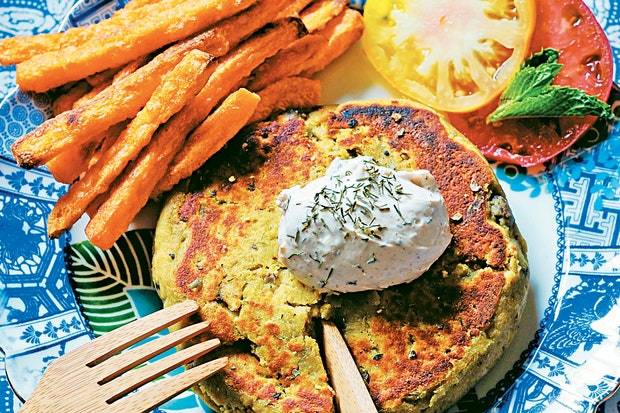 Saint Patricks day is coming up so why not change it up a bit and have a green burger with your festivities. Edamame is packed with protein and absorbs flavor magnificently. Serve this up with some backed sweet potato fries, grilled veggies, or a nice salad for a wonderful and refreshingly light meal.
JONI MARIE NEWMAN JUNE 2011 THE BEST VEGGIE BURGERS ON THE PLANEt
Photo ROCKPORT PUBLISHERS

2 cups (340 g) shelled and frozen edamame
1 can (15 ounces, or 420 g) chickpeas, with liquid
8 ounces (227 g) sliced mushrooms
1/2 cup (65 g) finely ground raw cashews
1/2 cup (60 g) nutritional yeast
4 cloves garlic
1/2 teaspoon ground cumin
1/4 teaspoon liquid smoke (optional)
1 teaspoon Bragg's Liquid Aminos or soy sauce
Salt and pepper, to taste
3 1/2 cups (420 g) chickpea flour
Oil, for frying
Place the frozen edamame and the entire can of chickpeas, including the liquid, in a saucepot and warm through. This step is to defrost the edamame; if you use fresh or precooked edamame, you can skip this step.
Combine the edamame, chickpeas and liquid, mushrooms, cashews, yeast, garlic, cumin, liquid smoke, liquid aminos, and salt and pepper in a food processor and process until smooth. Pour into a large bowl.
Slowly add the flour until a thicker consistency is formed. Depending on the moisture content of your mixture, you may need just a little flour or a whole lot.
Place the entire bowl in the refrigerator for 20 to 30 minutes to stiffen up and make it easier to handle when forming the patties. Form into 16 patties.
Heat the oil in a Titanium elite fry pan and fry the patties for 4 to 5 minutes, or until golden brown on both sides.