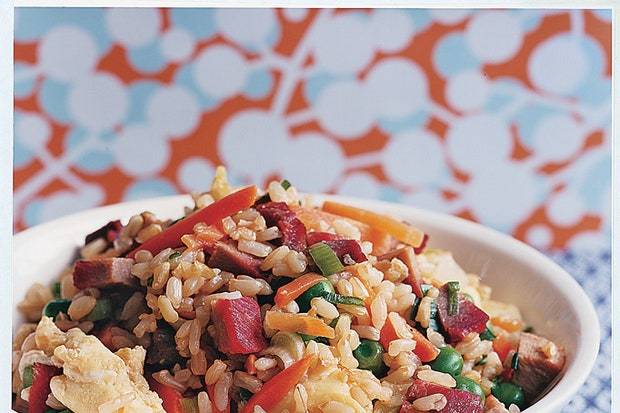 You can't go wrong with a delicious fresh warm bowl of amazing fried rice! Cooked perfectly in our amazing Titanium Elite Wok.
Photo : MARCUS NILSSON

VICTORIA GRANOF COOKIE AUGUST 2009

INGREDIENTS
3 tablespoons canola oil
2 eggs, beaten
1 bunch scallions, roughly chopped
1 cup leftover pork, chicken, or beef, diced
1 cup frozen peas and carrots, thawed (plus any leftover vegetables you have on hand)
4 cups cold cooked white or brown rice
4 tablespoons soy sauce
Salt and pepper to taste
PREPARATION
1. In a Titanium Elite wok, heat 1 tablespoon of the oil over medium-high heat.
2. Add the eggs and scallions. Cook, breaking up the eggs with a spoon until they are lightly browned.
3. Stir in the meat, vegetables, rice, and the remaining oil. Increase heat slightly and cook until the rice is crispy, about 5 minutes.
4. In a small bowl, combine the soy sauce with 4 tablespoons of water. Pour the mixture over the rice.
5. Continue cooking, stirring occasionally, until the rice has absorbed all the liquid, 3 to 5 minutes. 6 Season with the salt and pepper and serve, with extra soy sauce on the side.