FLANK STEAK WITH MUSHROOM RAGU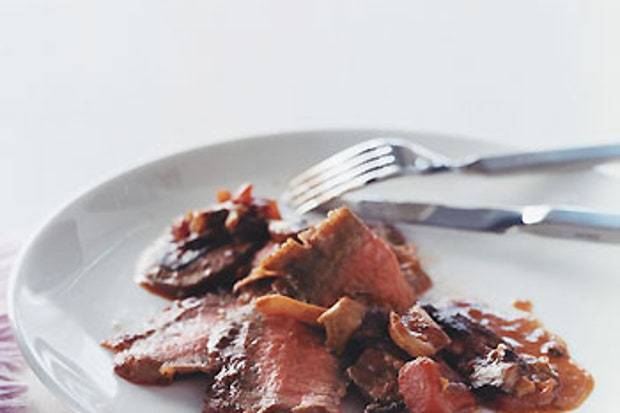 More often than not Flank steak is grilled, however why go through all the trouble when you can easily sear it in one of our incredible Titanium Elite Pans or even better get the same char and markings from one of our Titanium Elite Grill Pans. Either way this tender flank steak recipe topped with a creamy and butter ragu is sure to melt in your mouth.
MOLLY STEVENS BON APPÉTIT APRIL 2009

Photo ROMULO YANES

1/4 teaspoon hot chili sesame oil*
6 tablespoons (3/4 stick) butter, divided
1/4 cup chopped shallot (about 1 large)
1 tablespoon plus 1 teaspoon minced peeled fresh ginger
4 garlic cloves, minced, divided
1 serrano chile, seeded, minced, divided
4 5-ounce bags baby spinach
Coarse kosher salt
2 pounds sea scallops, side muscles removed
1 tablespoon peanut oil or vegetable oil
3/4 cup finely chopped spring onions or green onions (white and pale green parts only)
1/4 cup mirin (sweet Japanese rice wine)*
1.) Put oven rack in middle position and preheat oven to 200°F.

Pat steak dry. Mix together salt and pepper in a small bowl, then rub three fourths of salt mixture on both sides of steak.
2.)Heat 1 tablespoon oil in a 12-inch heavy skillet over moderately high heat until hot but not smoking, then sauté meat, turning over once, 6 to 8 minutes total for rare (depending on thickness of steak). Transfer to a baking pan and keep warm in oven while making ragout.
3.)Heat remaining 2 tablespoons oil in uncleaned skillet over moderately high heat until hot but not smoking, then sauté garlic, rosemary, and red-pepper flakes, stirring, until fragrant, about 30 seconds. Add mushrooms and remaining salt mixture and sauté, stirring frequently and scraping up any brown bits, until mushrooms are tender but still juicy, 6 to 7 minutes. Add tomatoes with their juice and sugar, then simmer, stirring occasionally, until liquid is reduced by about two thirds, 5 to 8 minutes.
4.)Transfer steak to a cutting board and pour any meat juices from baking pan into mushroom ragout. Holding knife at a 45-degree angle, cut steak across the grain into thin slices. Serve topped with ragout.