Incredible Eggs In Purgatory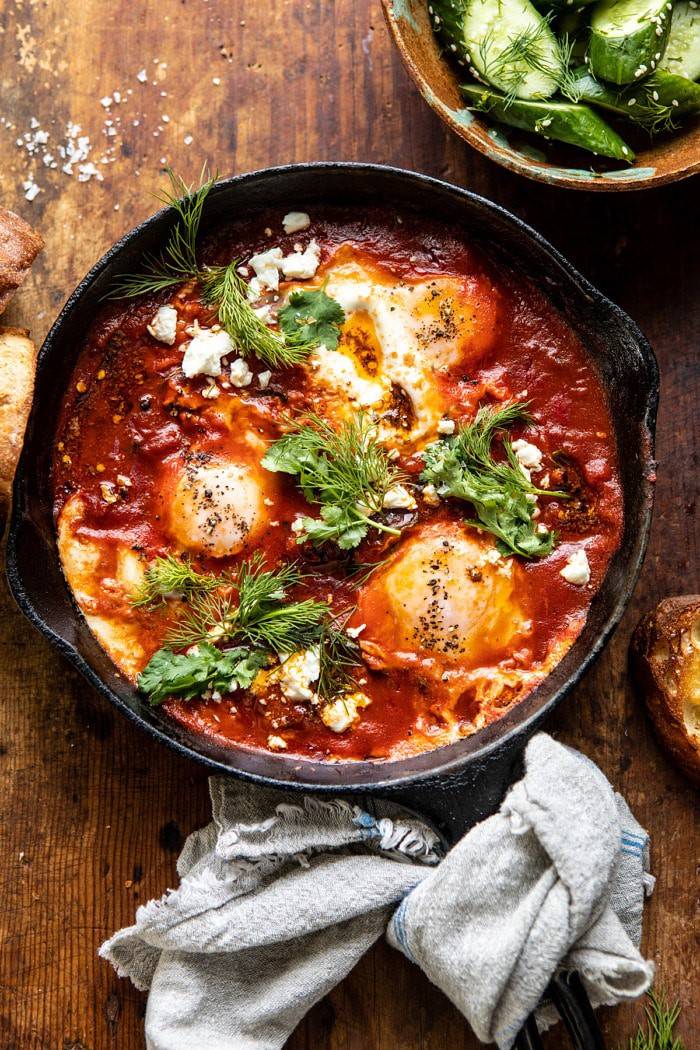 This is recipe is a hit for a show stopping weekend brunch! Use our Chef approved titanium elite fry pan and cut out the oil for a healthier alternative, or follow the recipe as it is if you like. To take away the heat just cut out the spices. This dish is savory and cozy and truly an enjoyable way to start the day.
INGREDIENTS
1/3 cup olive oil
1 tbsp minced garlic
1 yellow onion, minced
1 jar Marinara sauce (about 3 cups)
1/2 cup water
1 1/2 tbsp red pepper flakes
1 cup fresh shredded parmesan cheese
6 eggs
salt and pepper
Parsley, to top with
1 loaf Italian bread (toasted)
butter
parmesan, for serving
To Poach the eggs:
2-3 tablespoons of apple cider vinegar
INSTRUCTIONS
In the medium fry pan
1.) Optional : Add 1/3 cup olive oil to a skillet over medium heat and add in the onion and garlic and cook them unti they are nice and soft.
2.Add the marinara into the pan and heat it stirring in all of the spices.
3.) Mix in the parmesan Cheese and then prepare the poached eggs
4.)Poach the eggs:
fill the small titanium elite cookpot half way with water and bring to a rolling boil on medium high heat then reduce to a simmer and add in the vinegar, carefully crack each egg one at a time into the pot and swirl a spoon around the white while you watch it stick to the yolk when the egg is bright white (about 4 minutes use a slotted spoon to remove them. (do each egg individually)
5.)Doing your best to make little holes in the sauce, crack all six eggs into those holes and let them sink down into the sauce.

Place a lid on the skillet and let the eggs and sauce simmer for 8-10 minutes
6.) Slice, butter, and oven toast the bread until its crispy at 400 degrees for 8-10 minutes and serve 2 eggs in a bowl with a crusty piece of buttery toast.
7.) Sprinkle each bowl with parsley and extra parmesan.