JuLia Child's Bouillabase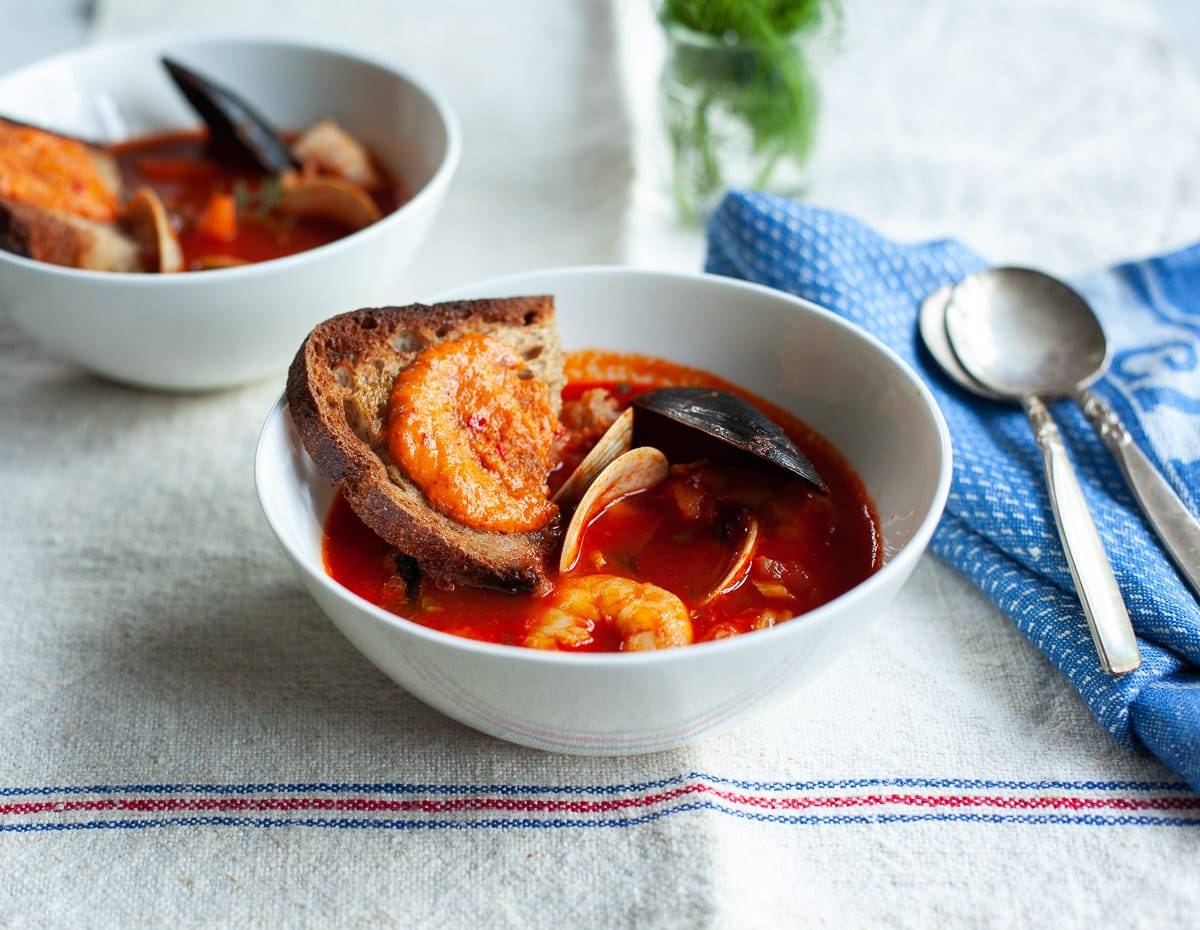 Julia Child's is quite an example in the kitchen and her talent left a mark in the world of french quisiine, our 8 quart stock pot is perfect for a buillabase that we have to give her credit for. This simple seafood soup goes great with a crusty toasted baguette to mop of the remaining stock.
INGREDIENTS
½

cup

(

118

ml

)

extra-virgin olive oil

1

cup

(

150

g

)

chopped onion

1

cup

(

89

g

)

chopped leek

4

cloves

smashed garlic

2

or 3 large

,

ripe tomatoes, chopped or 2 cups canned

2 ½

quarts

(

2.5

l

)

water

Fresh herb sprigs: thyme

,

parsley, fennel fronds and basil (in any combination)

1

2-inch

wide strip of fresh orange peel (optional)

½

teaspoon

saffron

1

tablespoon

sea salt

3 – 4

pounds

fish heads

,

bones, trimmings, shrimp shells

1

pound

peeled shrimp (save the shells for the stock)

1

pound

cod, halibut or other flaky white fish

,

cut into large chunks

1

pound

mussels or clams

,

scrubbed and mussels debearded

1 French Baguette
INSTRUCTIONS
Heat the oil in an 8 quart Titanium elite coockpot over medium heat; add the onion and leek and garlic thn cook on medium low until softened. then add the water, herbs, orange peel, tomatoes, saffron, salt and fish bones and shrimp shells. Bring to a simmer, then reduce heat so that the broth bubbles slowly without boiling. let this cook for thirty minutes then strain out the stock so the solid pieces are separate. Add the broth back into the pot and the uncooked seafood, on medium high heat cook the seafooD. Toast the baguette ,and adjust the salt pepper and seasoning in the soup to taste, then serve each bowl with a slice, voila.