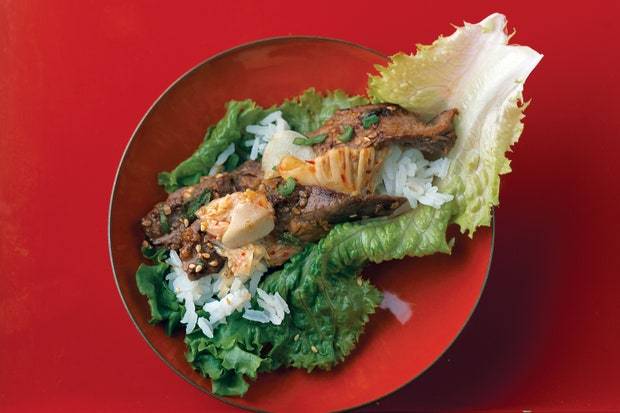 A popular Korean dish of marinated and wok seared beef topped with Kimchee and fresh garlic and seasoned white rice.
LILLIAN CHOU GOURMET MARCH 2004

PHOTO BY ROMULO YANES

1/4 cup soy sauce
1 tablespoon sugar
2 teaspoons Asian sesame oil
1 bunch scallions (white and pale green parts separated from greens), minced (1/2 cup)
1 tablespoon minced garlic
1 tablespoon minced peeled fresh ginger
3 tablespoons sesame seeds, toasted
1 lb flank steak, cut across the grain into very thin slices (no more than 1/8 inch thick)
1 tablespoon vegetable oil
Accompaniments: butter lettuce or other soft-leaf lettuce; thinly sliced garlic; packaged kimchi*; steamed white rice
Stir together soy sauce, sugar, sesame oil, white and pale green scallions, garlic, ginger, and 2 tablespoons sesame seeds in a bowl until sugar is dissolved. Add steak and toss to coat, then marinate 15 minutes.
Heat vegetable oil in the titanium elite wok over high heat until just smoking, then add steak in 1 layer and sauté, turning over occasionally, until browned and just cooked through, about 5 minutes total. Transfer to a platter and sprinkle with scallion greens and remaining 1 tablespoon sesame seeds, then serve with accompaniments.