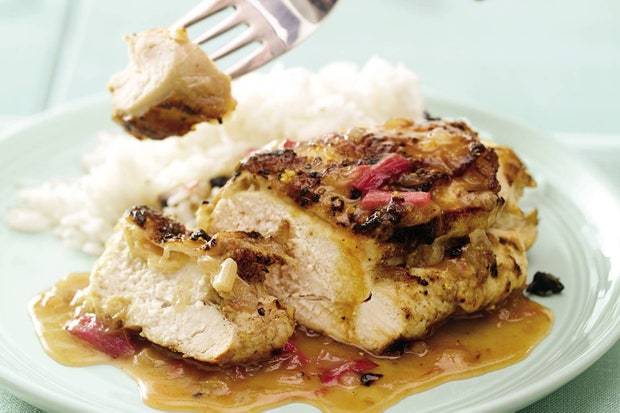 Sweet, tart, and savory ruhbarb compliments this chicken served with fluffy jasmine rice makes this dish eloquently gourmet and delightful, its a sure winner for any occasion.
INGREDIENTS
5 tablespoons olive oil, divided

2 tablespoons plus 1/4 cup chopped shallots
4 1/2 cups diced rhubarb, divided
1 tablespoon fresh lemon juice
2 teaspoons finely grated lemon peel, divided
1/4 cup (1/2 stick) butter
1/2 cup sliced unpeeled fresh ginger
3/4 cup sugar
6 tablespoons brandy
4 cups low-salt chicken broth
1 whole star anise
1 bay leaf
6 boneless chicken breast halves with skin
INSTRUCTIONS:
1.)Heat 2 tablespoons olive oil in heavy large skillet over medium-high heat. Add
2.) tablespoons chopped shallots and 2 cups rhubarb; sauté until soft, about 5 minutes. Stir in lemon juice and 1 teaspoon lemon peel. Season with salt and pepper. Cool rhubarb stuffing.
3.)Melt butter in heavy large saucepan over low heat. Add 21/2 cups rhubarb, 1/4 cup shallots, and ginger; sauté until soft, about 10 minutes. Increase heat to high. Add sugar and brandy; boil 1 minute. Add broth, star anise, and bay leaf. Simmer over low heat until mixture is reduced to 2 cups, about 1 hour.
4.)Strain sauce, discarding solids in strainer. Stir 1/3 cup rhubarb stuffing into sauce. DO AHEAD Stuffing and sauce can be made 2 days ahead. Cover each separately and chill. Rewarm sauce before using.
5.)Preheat oven to 425°F. Using fingertips, separate skin from flesh of chicken breasts, forming pocket. Place about 2 tablespoons rhubarb stuffing in pocket.
6.)Sprinkle chicken with salt and pepper. Heat 3 tablespoons oil in large skillet over medium-high heat. Working in 2 batches, add chicken breasts, skin side down, to skillet; cook until brown, about 7 minutes. Transfer chicken, skin side down, to roasting pan.
7.)Roast chicken 10 minutes; baste with pan juices. Roast until cooked through, about 10 minutes longer. Transfer chicken to platter, sprinkle with 1 teaspoon lemon peel, and serve, passing sauce alongside.