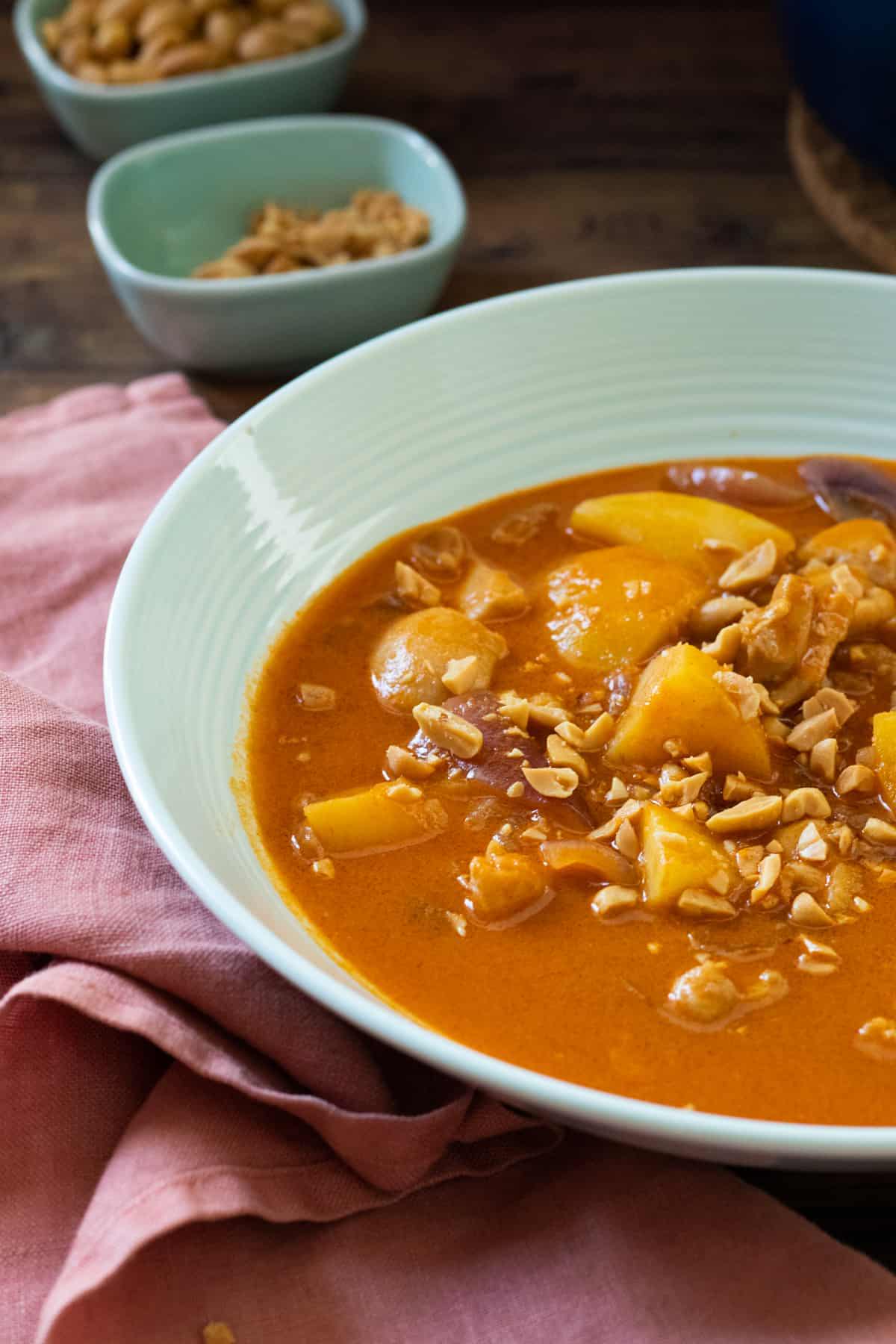 Massaman Curry is an authentic thai dish thats not to sweet or spicy, warm creamy coconut milk blends in with the flavors of peanuts and spices to create a comforting and satisfying delightful dish you can't resist.
Ingredients
2 (14 oz) cans coconut milk
5 Tbsp Massaman curry paste*
1 cup roasted unsalted peanuts + chopped to serve (optional)
1 lb chicken thigh filets cut in bite-size pieces
5 Tbsp tamarind paste
2 Tbsp sugar
1 tsp salt
1 lb potatoes peeled & cut in quarters
2 red onions cut in bite-size pieces
3 cinnamon sticks
5 bay leaves
Instructions
1.Using a titanium elite wok, heat the wok over medium heat. Pour in the coconut milk and turn the heat up to high and wait for it to begin to boil then add in the curry paste and mix it in until it is dissolved
2.When the coconut milk is just starting to boil, mix in the Massaman curry paste.
3.Add in the peanuts and the chicken pieces and stir once. Simmer for 5 minutes,do not stir just wait until the chicken whitens on the outside and then mix in the rest of the ingredients.
4.Stir, cover, and leave to simmer for 20 minutes, until the potato is cooked through. Lift the lid and stir a few times while cooking.
5.After 20 minutes, check to see if the potatoes are done and then taste test and adjust seasoning if necessary.
Top with chopped peanuts (optional) serve with a side of cooked Jasmine rice or rice noodles.