Moroccan Salmon with Swiss Greens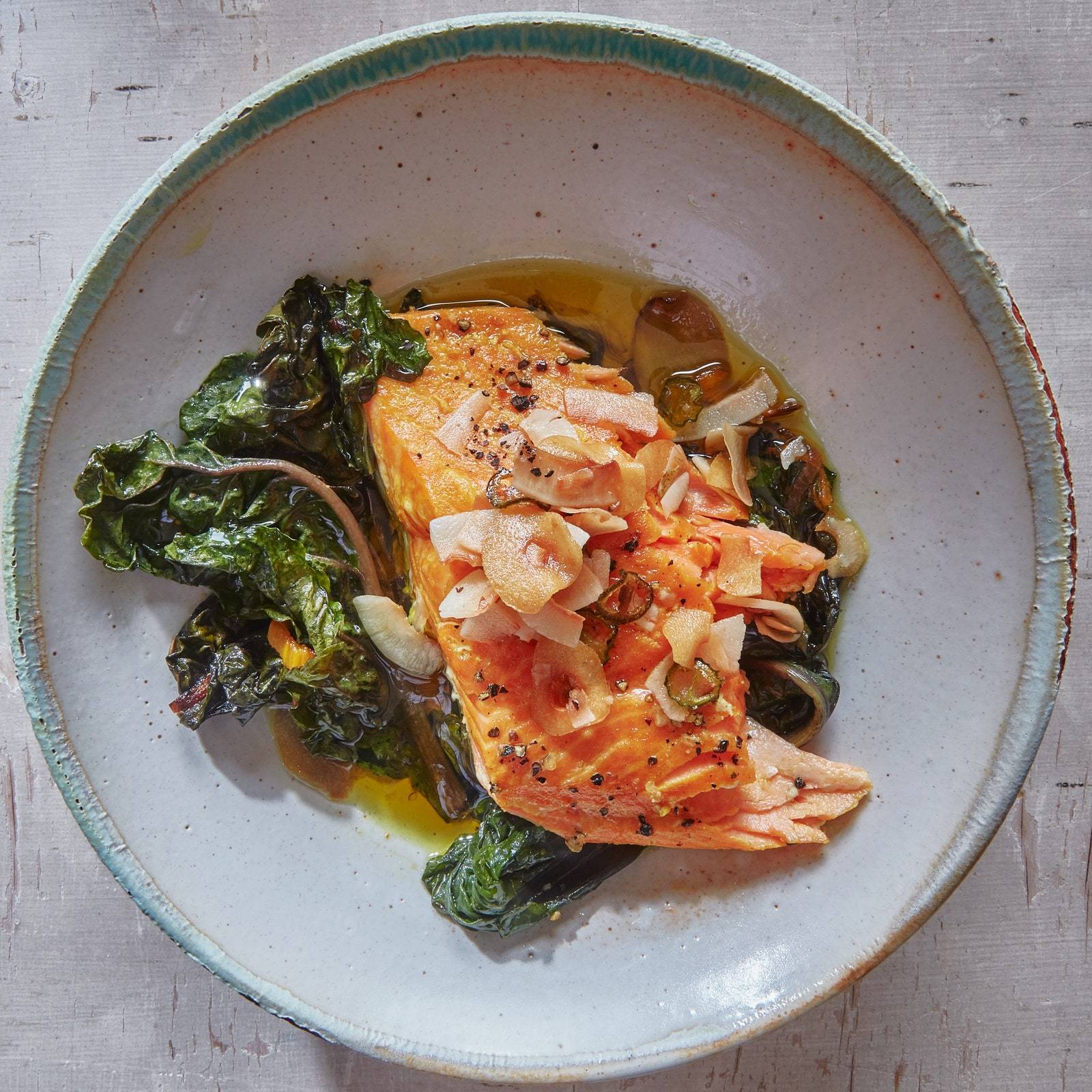 This Sweet, Spicy, Light and airy but cozy spiced salmon is both warming and refreshing, the crunchy coconut adds a pleasant surprise and can be used on other items like oats, rice, or even in soups.
INGREDIENTS
5 Tbsp. extra-virgin olive oil, divided
2 bunches Swiss chard, ribs and stems removed and finely chopped, leaves coarsely chopped (keep
separate)
1 large shallot, thinly sliced
1 (3-inch) piece ginger, peeled, thinly sliced lengthwise
Kosher salt
½ tsp. ground turmeric
1 (1½-lb.) skinless salmon fillet, preferably center cut
3 garlic cloves, thinly sliced
½ serrano chile, thinly sliced
½ cup unsweetened coconut flakes
Freshly ground black pepper
Preheat oven to 300°F.
Heat 2 Tbsp. oil in a large ovenproof skillet over medium-high. Add Swiss
chard ribs and stems, shallot, and ginger and cook, stirring occasionally, until shallot is softened but not browned, about 3 minutes. Add Swiss chard leaves and cook, stirring, until partly wilted, about 3 minutes. Remove from heat and season with salt.
Combine 2 Tbsp. oil and turmeric in a small bowl. Place salmon, skin side down, on top of greens in
skillet. Season salmon with salt and coat with turmeric oil. Transfer to oven and bake until fillet is just opaque in the center and flakes easily and greens are tender, 25–30 minutes.
Meanwhile, heat remaining 1 Tbsp. oil in a small skillet over medium. Add garlic, chile, and coconut
flakes and cook, stirring oen, until garlic and coconut turn golden, about 5 minutes. Transfer
coconut crisp to a small bowl and season lightly with salt.
Season fish and greens with pepper; serve with coconut crisp for topping.
ANDY BARAGHANI BON APPÉTIT FEBRUARY 2020