Mushroom and Sausage Ragu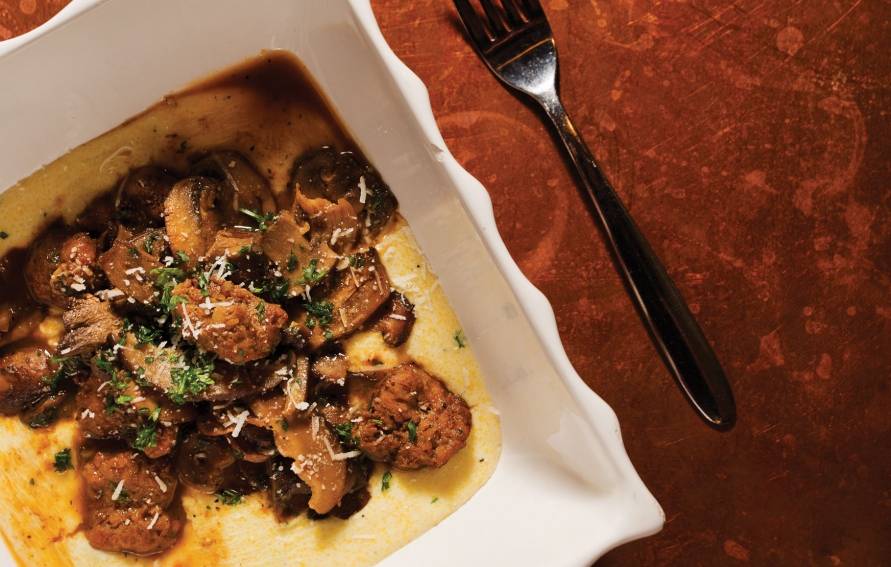 Simple yet savory this comforting and quick to make ragu uses mushrooms and sausage cooked together with creamy polenta and is a wonderful dinner for any night of the week on any occasion.
INGREDIENTS
1 c. dried morel mushrooms
2 tbsp. olive oil
2 sweet Italian sausages
1/2 lb. shiitake caps
salt
Freshly ground pepper
2 shallots
6 water chestnuts
1 tbsp. tomato paste
1 tbsp. unsalted butter
chopped parsley
Instructions:
Bring 1 1/2 cups of water to a boil and soak the mushrooms until they soften then strain ( reserve the liquid in a bowl),
In a medium Fry Pan heat 1 tablespoon of oil over medium heat.
Slice the sausages to 1/4 inch thickness and place in the pan, cover with the lid and cook until there is no pink. remove and set aside
Heat the remaining oil in the skillet. Add the shiitake,shallots and morels. cover and cook for 4 minutes. Add the water chestnuts and pour in the reserved mushroom soaking liquid. then add the sausages back in Add the sausages and simmer for 2 minutes. Stir in the tomato paste.
Season with salt and pepper. Off the heat, swirl in the butter, and sprinkle with parsley. Serve over prepared polenta.