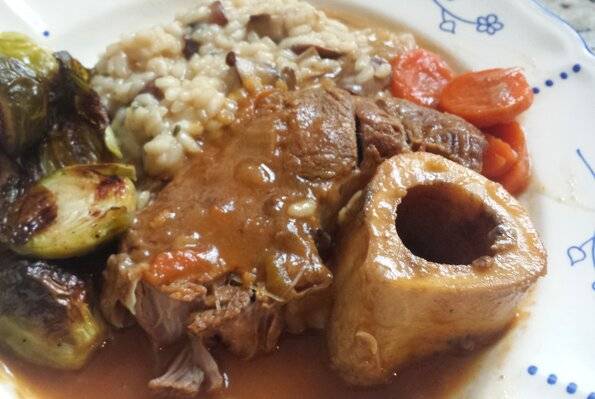 Ossobuco Milanese with Garlic Parmesan Rissoto
Ingredients
Ingredient Checklist
4 veal shanks, sliced for ossobuco
1 dash all-purpose flour
1 tablespoon butter, or to taste
1 tablespoon olive oil, or to taste
1 tablespoon chopped onion
1 tablespoon chopped carrot
½ cup white wine
1 tablespoon tomato puree
salt and ground black pepper to taste
1 cup beef stock
¼ cup chopped fresh parsley
½ lemon, zested
Directions
1.Take the veal shanks and make a few slits in the skin, pat them dry and sprinkle each side with salt and pepper.
2.Place a Medium Cookpot or Fry pan on medium heat and melt the butter into the oil, once hot toss in the onion and carrot and let them cook until soft. This usally takes about about 5 minutes. Brown the veal shanks on each side and then add in the white wine to simmer until it reduces for another 5 minutes and then add in the remaining ingredients: tomato puree, salt, and pepper.
3.) add in the beef stock in small portions stirring the mix each time to make the sauce consistent,
4. Stir in the parsley and lemon zest and the reduce the heat to medium low , and simmer for 55 minutes while you make the rissoto..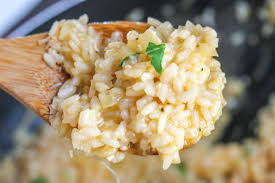 Arborio rice is slow simmered in parmesan, garlic and and cream until it reached the perfect creamy consistency this rice is a go to for any dish you make.
INGREDIENTS
1/2 medium onion diced finely
4 cloves garlic minced
1 Tbs olive oil
1 Tbs butter
4 cups vegetable stock
1/4 cup dry white wine
1 cup arborio rice
1 cup freshly grated Parmesan cheese plus extra for serving
3 Tbs freshly chopped parsley
INSTRUCTIONS
Using a medium size fry pan heat the stock and melt the butter and oil over medium heat.
Add the onions and garlic and saute for 3 minutes
Mix in the rice and make sure it is thoroughly coated by the oil, then pour in the wine stirring it until it is absorbed.
Add the stock in 1 cup at a time, wait until the stock is fully absorbed before adding the next one and repeat until it is finished.
Finally mix in the Parmesan cheese and garnish with parsley.
Serve with extra parmesan and fresh cracked pepper.