Seared Scallops with Browned Lemon Butter Sauce and Capers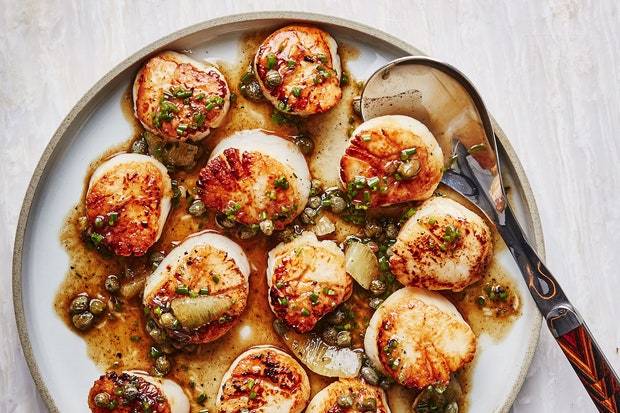 This is a light, elegant and easy dish thats savory and satisfying, the nutty taste of brown butter with the lemon and capers is pure satisfaction no matter what season it is.
YIELD: 4 servings
INGREDIENTS:
3 lemons or 1/4 cup Lemon Juice
Small handful of chives
12 large dry sea scallopsKosher salt,
freshly ground pepper
Extra-virgin olive oil or vegetable oil
3 tablespoons unsalted butter, cut into pieces
2 teaspoons drained capers

PREPARATION
Slice the 2 lemons in half and squeeze juice into small bowl, or measure out 1/4 cup lemon Juice and put aside. If using fresh lemons remember to remove the seeds and any pulp from the bowl
Wash and Pat The Scallops Dry. Heat a Large Fry Pan over medium High Heat and pour enough oil into the pan to coat the surface (3-4 TBS) ; Wait until you begin to see the oil smoke lightly. Sear the scallops one side at a time for 3-4 minutes per side, make sure each side is golden brown. Tip: if the scallops stick a bit , wait 30 seconds and try again, Transfer scallops to a plate.
Dump the remaining oil out and brown the butter by adding it to the heated pan making sure as it melts it spreads out, watch it until it begins to foam and then add in the lemon juice, using a wisk stir the mixture vigorously to make sure to get the fond and emulsify the sauce, when its thickened a bit add in the capers, plate the scallops and spoon the sauce over top until they are covered. Garnish with chives and or Parsley.