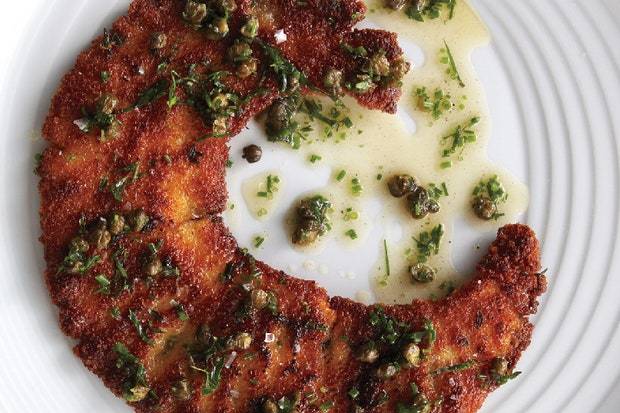 Chef Adam Evans designed this dish and used it on his opening menu at his restaurant in Atlanta Georgia, even though skate can sometimes be difficult to find, when you do see it or get your hands on it, do try out this incredible chef curated dish.
INGREDIENTS
6 cups torn country-style bread
2 large eggs, beaten to blend
1 cup all-purpose flour
1/2 cup finely chopped fresh herbs (such as flat-leaf parsley, chives, and/or tarragon), divided
Kosher salt, freshly ground pepper
4 6-ounce skate wing fillets
1/2 cup olive oil
1/4 cup (1/2 stick) unsalted butter
2 tablespoons drained capers
2 tablespoons fresh lemon juice
1 tablespoon Dijon mustard
Lemon wedges (for serving; optional)
PREPARATION
1.)Pulse bread in a food processor until semi-fine crumbs form. Place breadcrumbs, eggs, and flour in separate shallow bowls. Mix 1/4 cup herbs into breadcrumbs; season with salt and pepper.
2.)Season skate with salt and pepper. Dredge skate in flour, shaking off excess, coat with egg, letting excess drip back into bowl, and coat with breadcrumbs; transfer to a plate.
3.)Heat oil in a large cast-iron or other heavy skillet over medium-high heat. Working in batches, sauté skate until golden brown and just cooked through, about 2 minutes per side. Transfer to a paper towel-lined plate; season with salt.
4.)Pour off oil in pan; heat butter, stirring occasionally, until foaming and starting to brown, about 3 minutes. Whisk in capers, lemon juice, mustard, and remaining 1/4 cup herbs.
Drizzle skate with brown butter sauce and serve with lemon wedges, if desired.