Soul Comforting one pot chicken stew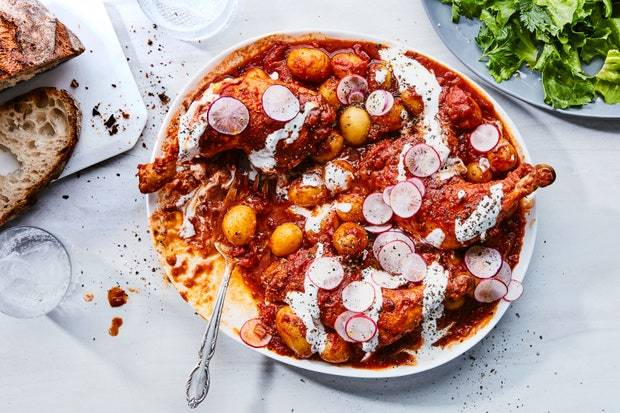 The beauty of this cozy stew is there's only one pot to clean up after enjoying its robust and exotic flavors. Low and slow cooking is the way to go to get that perfect tender, fall off the bone meat. Simmer the stew as long as it takes to get the potatoes to cook until they are creamy and soft to bite into, this makes the whole pot blend together activating both the flavors and the textures.
YIELD:

4 servings

ACTIVE TIME:

30 minutes :

TOTAL TIME:

2 hours
INGREDIENTS
4 chicken thighs



Kosher salt
2 tablespoons extra-virgin olive oil, plus more for drizzling
1 large onion, chopped
5 garlic cloves, thinly sliced
2 tablespoons (or more) Hungarian hot or sweet paprika
1 (28-ounce) can whole peeled tomatoes
3 cups (or more) homemade chicken stock or low-sodium chicken broth
1 1/2 pounds baby Yukon Gold potatoes
1/2 lemon
3/4 cup sour cream
6 radishes (about 1 bunch), trimmed, thinly sliced




PREPARATION
Wash and pat the chicken thighs dry, then season them with both salt and pepper
Using one of our large cookpots , Turn the stove on medium high heat, and add in your oil. When the Oil is hot cook the chicken skin side down for 8-10 minutes making sure the skin is golden brown. Remove when it is done and set it on a plate.
In the remaining oil on the same heat saute the onion and paprika and cook until the onion softens and then add in the garlic.
Open the can of tomatoes and pour them into the hot pot, be sure to mash them until they are smooth and creamy, nestle in the chicken and then the potatoes and then the stock, Let the pot boil and then bring the pot to a simmer, (medium low heat). You will want to stir the stew occasionally while you let it cook for the next 60-90 minutes.
Check to see if the chicken is done by making sure it is fully cooked, and that the potatoes have the right texture. Check the taste and add in extra salt, pepper or seasoning if you desire then remove the pot from the heat.
Toss the radishes in salt in a small bowl and in another bowl mix together the salt and lemon. To serve: Portion 1-2 Thighs in a bowl and garnish with sour cream and radishes, parsley and shredded parmesan if desired.