Superb Skillet Chicken and Rice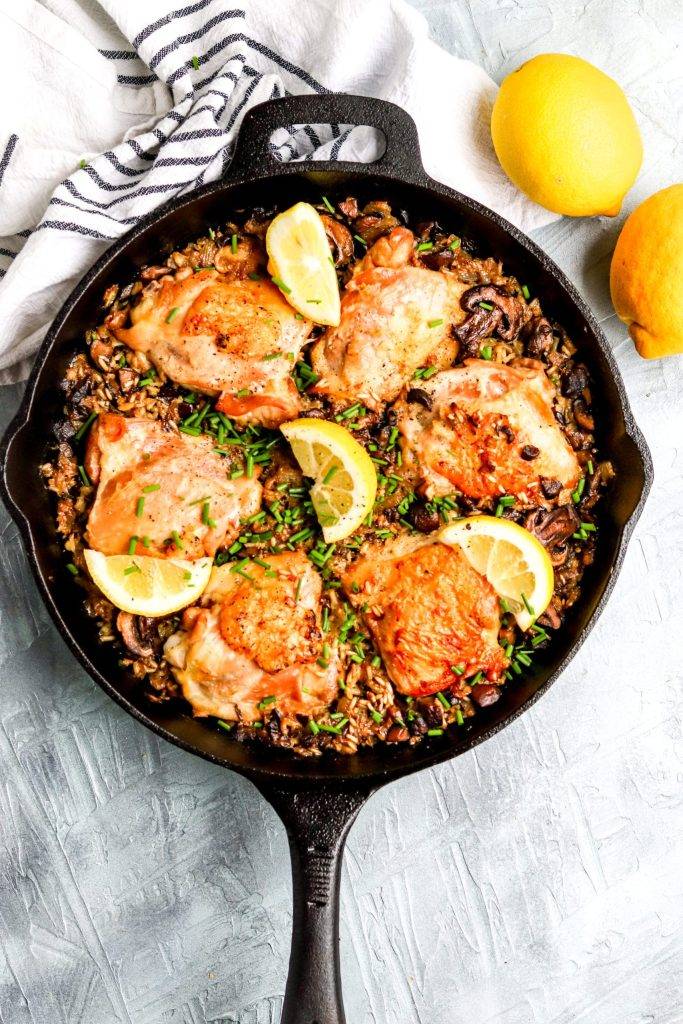 Whats not to love about an easy and amazing one pan dinner. This easy and delicious dish is a great weeknight dinner with little to no cleanup needed!
INGREDIENTS
2 tbsp. olive oil
6 bone-in, skin-on, chicken thighs
1 onion, chopped
3 cloves garlic, minced
8 oz. mushrooms, chopped (I like baby Portobello but any kind will work)
⅓ cup white wine
2 cups chicken broth
¾ cup brown rice
1 tsp. salt
½ tsp. freshly ground black pepper
1 lemon
INSTRUCTIONS
1.)In our Large Fry pan Heat olive oil in a large skillet over medium heat on the stove.
2.) Place the chicken thighs, skin side down, in the heated skillet and cook until skin is crispy and golden brown. Transfer to a plate.
3.)Remove all but 2 tbsp. of the oil and released chicken fat from the skillet. Add onions, garlic, and mushrooms and cook until tender.
4.)Add white wine to deglaze the pan, scraping up all the brown bits.
5.)Add chicken broth, rice, salt, and pepper. Place the chicken thigh on top of the rice. Slice half the lemon and place around the chicken.
6.)Cover the pan and let it simmer for 30-45 minutes until the chicken is fully cooked.
Serve immediately, enjoy!