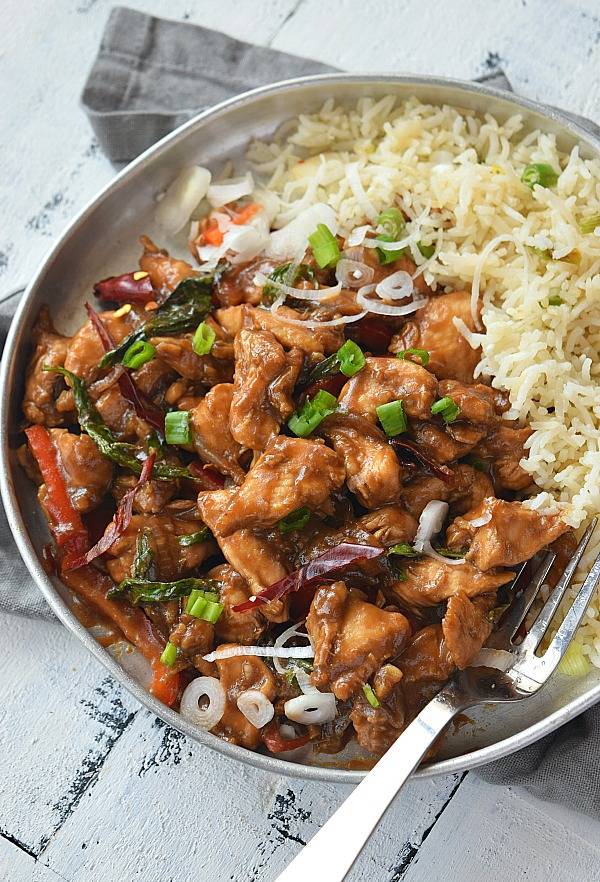 Thai basil chicken is an absolute go to dish and can be made with most common ingredients in your pantry so that means no complicated shopping trips, you get an exotic delicious dinner thats easy to make and satisfying for everyone. Serve this up with a side of steamed jasmine rice and enjoy!
Ingredients
1 lbs Chicken (boneless or skinless chicken breast, small diced)
1 Bunch Basil (sweet Thai basil)
2 tbsp Cooking Oil
1 Bell Pepper (red or yellow)
1/4 tsp Salt (or 1 tsp fish sauce)
2-3 Green Onion (thin sliced, for serving)
2 tbsp Oyster Sauce
2 tsp Sugar
2 tbsp Soy Sauce (low sodium, light soy sauce)
1 tbsp Soy Sauce (dark sauce)
1 tbsp Garlic (4-5 cloves, minced)
2-4 Thai Red Chili (or 1 serrano, minced)
Directions
1.Wash the thai basil and pull the leaves off, and then pat dry then mix the soy sauces, oyster sauce, and sugar together in a bowl until the sugar is completely dissolved and Set aside. Mince the garlic and the chilis and set aside.
2.Dice the chicken into 1-2 inch, bite size, pieces. Set aside.
from stem.
3.Using the Titanium Elite Wok heat it on medium high heat and add in the cooking oil, when you can see the oil begin to smoke drop the basil leaves in and deep fry half of them. When they are done place them on a plate with a paper towel on top of it to drain.
3. Add the garlic and chili into the wok and cook for 1 minute and then add the chicken in and cook for 3 minutes then add the sauce mixture in and cook the chicken for 5 minutes until the outside is no longer pink. and then add in the remaining ingredients and cook all the way through.
5. Assemble Thai Basil Chicken: Once chicken is fully cooked and sauce has thickened, add the fresh basil leaves and mix thouroghly then remove from the heat.