Thai Pineapple fried rice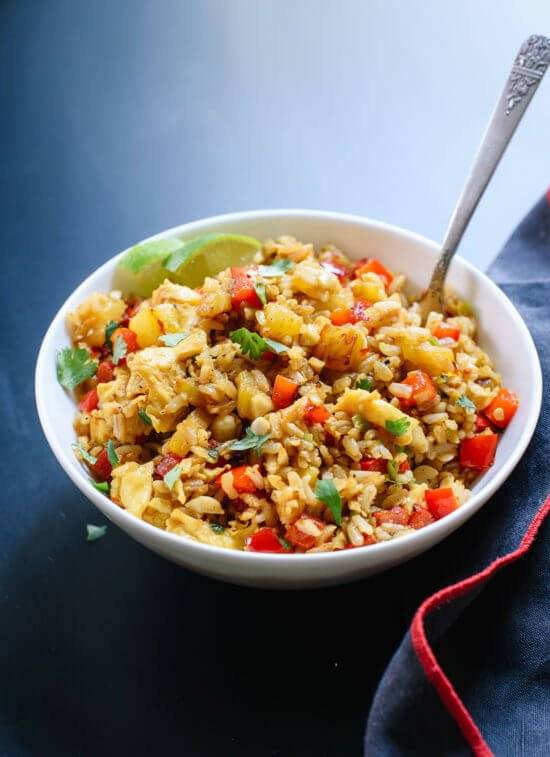 Heres a quick healthy go to dinner for you to try, this thai fried rice is sweet, spicy and savory all in one dish and satisfying as well. You can add meat if you like or tofu to keep it vegan. The best part is how easily this meal comes together so be sure to prepare all your ingredients in advance.
INGREDIENTS
2 tablespoons coconut oil or quality vegetable oil, divided
2 eggs, beaten with a dash of salt
1 ½ cups chopped fresh pineapple
1 large red bell pepper, diced
¾ cup chopped green onions (about ½ bunch)
2 cloves garlic, pressed or minced
½ cup chopped raw, unsalted cashews
2 cups cooked and chilled brown rice*, preferably long-grain brown jasmine rice
1 tablespoon reduced-sodium tamari or soy sauce
1 to 2 teaspoons chili garlic sauce or sriracha
1 small lime, halved
Salt, to taste
Handful of fresh cilantro leaves, torn into little pieces, for garnishing
INSTRUCTIONS
Heat The Titanium Elite wok, or large Fry Pan cast iron skillet on medium-high heat and with one tablespoon of sesame oil. Crack the eggs into a bowl and wisk them together, then pour them into the hot oil and stirn them till they scramble and set aside in an empty bowl to use later.
.
Add another tablespoon of sesame oil to the pan and add the pineapple and red pepper. Cook the pineapple so that it carmelizes and begins to turn brown.
Add the green onion and garlic. Cook until fragrant while stirring constantly, about 30 seconds and then add in the cashews and cook for about 2 minutes.
Remove the wok from the heat Add the tamari and chili garlic sauce, to taste. Squeeze the juice of ½ lime over the dish and stir to combine. Season to taste with salt and set aside.

To serve: heap a hearty amount of rice into bowls hen garnish each bowl with a lime wedge and a light sprinkle of cilantro. To kick it up a notch serve with siracha and tamari.