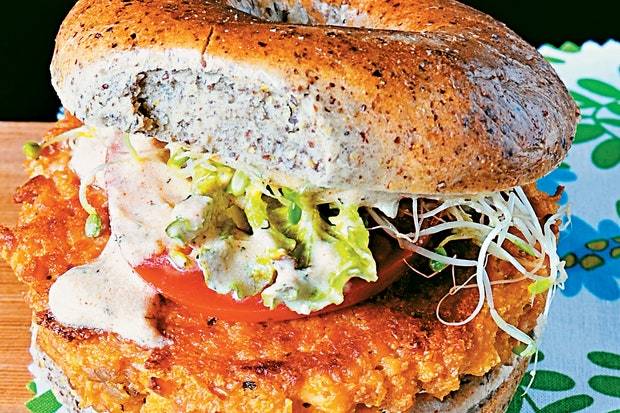 The trifecta of vegan gastronomy is what this burger is, using, TVP, tempeh and tofu its a vegan treat everyone will enjoy. For a healthy side dish bake up some sweet potato fries to enjoy on the side.
photo by ROCKPORT PUBLISHERS JONI MARIE NEWMAN JUNE 2011 THE BEST VEGGIE BURGERS ON THE PLANET
INGREDIENTS
1 cup (96 g) TVP granules
1 cup (235 ml) vegetable broth
10 ounces (280 g) extra-firm tofu, drained and pressed
4 ounces (112 g) plain soy tempeh
1/2 cup (112 g) vegan mayonnaise, store-bought or homemade
2 tablespoons (34 g) Sriracha sauce
2 tablespoons (30 ml) sesame oil
1/2 cup (62 g) all-purpose flour
Oil, for frying (optional)
PREPARATION
1. For the TVP bring the broth to a boil, pour over the TVP granules, cover, and let sit for 10 minutes. Let cool.
2.)In a mixing bowl, crumble the tofu and tempeh. Mix in the reconstituted TVP.
Add the mayonnaise, Sriracha sauce, and sesame oil. Mix well.
3.)Slowly knead in the flour until well incorporated and form into 6 patties. Cook as desired.
4.) Heat the Titanium elite grill Pan over medium heat and spray the cross hatch marks lightly with an olive oil spray, cook each burger for 5-7 minutes on each side, serve with sweet potatoes on the side and enjoy.