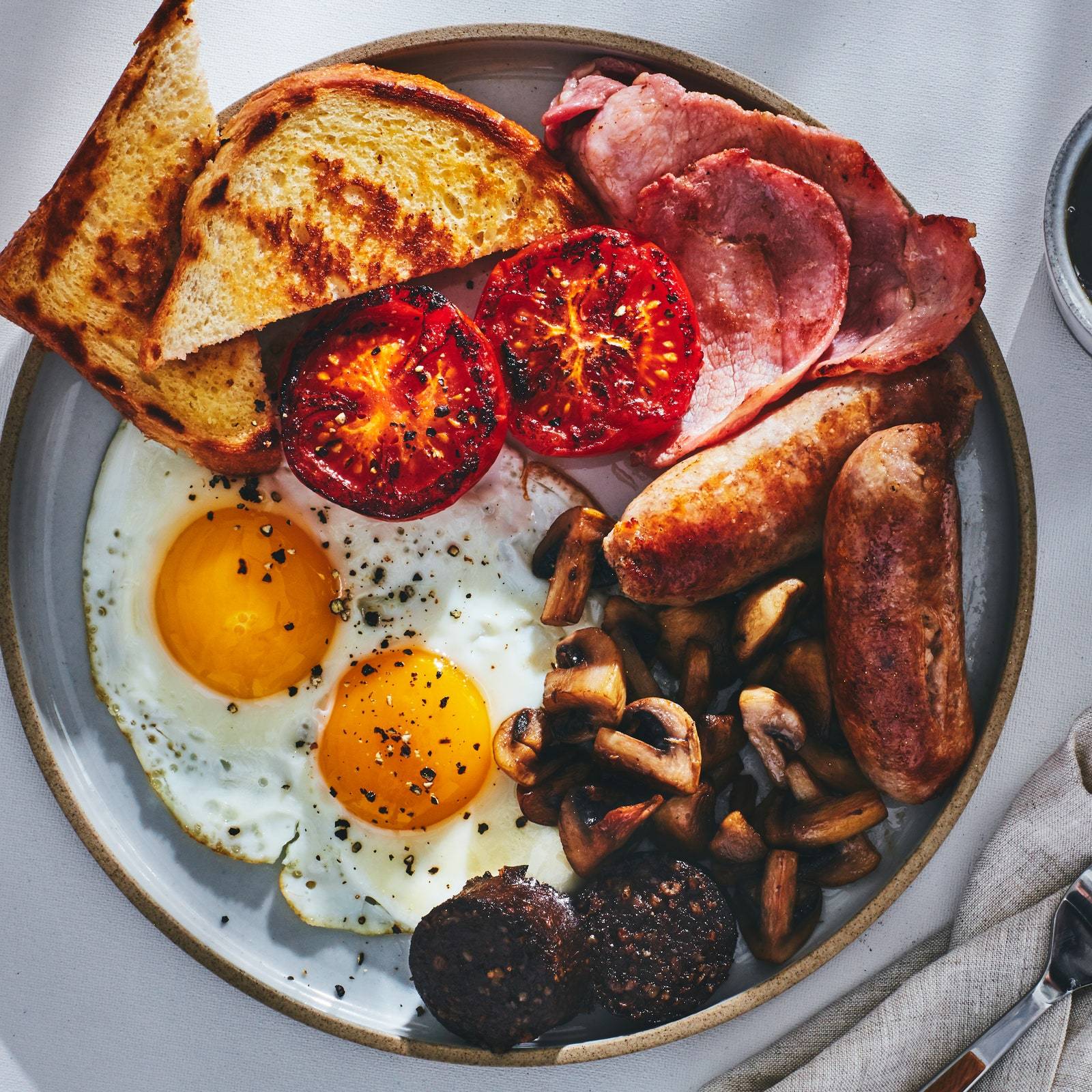 Try to find the best locally sourced ingredients possible to enjoy this amazing Irish breakfast tradition! You can change the way you cook your eggs if you like, poach them, scramble them, boil them or bake them, that's all up to you Fun Fact: Black pudding (blood sausage) may be more popular worldwide, but white pudding is very popular in Ireland and an important part of an Irish breakfast. White pudding is similar to black pudding, but it contains no blood—only pork, spices, and usually oatmeal.
INGREDIENTS
Vegetable, sunflower, or olive oil, for frying
Butter, for frying and spreading on toast
1-2 medium-size pork sausages
1-2 slices (rashers) thick-cut, dry-cured, smoked or unsmoked, Canadian (back) or regular (streaky)
bacon, rind removed
2 to 3 slices of black and/or white pudding
2 ounces (50g) button mushrooms, sliced, or 1 large flat mushroom, stem removed
Salt and freshly ground black pepper
1 ripe tomato, halved
Pinch of sugar (if roasting the tomato in the oven)
For the eggs:
1 to 2 eggs
1/2 tablespoon milk (for scrambled eggs)
1 to 1 1/2 tablespoons (5-20g) butter (for scrambled eggs)
2 slices white or whole-grain (brown) bread
PREPARATION
1.)Heat 1 tablespoon oil and 1 tablespoon butter in a large frying pan over a medium heat.
2.)Add the sausages and fry for 10 to 15 minutes, until golden and cooked through. Add the bacon and fry for 3 to 4 minutes on each side, until crisp and golden, dabbing off any milky liquid with paper towels.
3.)Add the black and/or white pudding slices to the pan and fry for 2 to 3 minutes on each side, until beginning to crisp; the white pudding (if using) should turn golden.
4)Remove the sausages, bacon, and pudding slices from the pan and drain on paper towels.
5.)Place in an ovenproof dish in a low oven to keep warm.
6.)Meanwhile, add a dash of oil and pat (knob) of butter to another frying pan over medium heat. Add the button mushrooms and sauté for 3 to 4 minutes, until softened and turning golden.
7)Season with salt and pepper, then remove from the pan and keep warm (adding to the dish with the sausages and bacon). If you are cooking a large flat mushroom, then add the oil and butter to the pan and fry the mushroom for 8 to 10 minutes, turning halfway through, until softened and browned.
8.)Season the cut side of the tomato halves with salt and pepper and drizzle over 1 tablespoon of oil.
9.)Gently fry them, cut side down first, for 2 to 3 minutes, then turn over and fry for another 2 to 3 minutes, until just softened.
10.)To fry an egg, melt a pat (knob) of butter in a small, clean frying pan over low heat. Carefully crack the egg into the pan and allow to fry gently. For an over-easy egg, fry for 1 to 2 minutes, until it begins to set, then flip over and fry for another 1 to 2 minutes. If you prefer your egg sunny side up, then fry gently for 4 to 5 minutes, until the yolk has filmed over. Remove from the pan and serve immediately with the other cooked ingredients.
11.)For scrambled eggs, crack the eggs into a bowl, add the milk, season with salt and pepper, and beat together. Add 1 tablespoon of the butter to a small saucepan over low heat.
12.)Immediately pour in the eggs and cook for 2 to 3 minutes, stirring continuously (I find a wooden spatula best for this), until the butter has melted and the eggs are fully scrambled.
13.)Remove from the heat immediately so that the eggs don't become overcooked. Serve with the other cooked ingredients.
14.) While the egg is cooking, put the slices of bread in a toaster or toast under a preheated broiler (grill) for a few minutes (and on both sides, if using the broiler/grill) until golden. Butter the toast and cut the slices in half.
15.)To serve, arrange everything on a warm serving plate, with the hot buttered toast on the side and with some tomato ketchup or relish.